Forums
74.4K

Musical Conversation

62K

Collective Argument

3.5K

IC Talent Area

39.1K

Entertainment

354

Archives
What's up everybody! Just a quick message. We will be relaunching AllHipHop.com with the goal of keeping the community front and center. I have worked with Jamal and select moderators, to make sure The Illl Community's needs are being addressed as we evolve. We are encouraging you to use the new platform.
We will NOT be closing the current community, but we will be porting user data over to the new system over time, so please get used to using the new community!
We will be working on it every single day until it's exactly what you want!
Please feel free to join now, test, as we are in beta:
https://www.allhiphop.com
Anybody remember when Lisa "Left Eye" Lopez burned down a mansion?
TLC member charged with setting Andre Rison's Georgia home on fire
Rap singer Lisa "Left Eye" Lopes of the hit group TLC faces arson charges in a fire that destroyed the house of her boyfriend, football player Andre Rison, in the exclusive Atlanta suburb of Alpharetta, GA.
Lopes, 24, is accused of setting fire to cardboard in an empty whirlpool at the Atlanta Falcons football star's two-story stucco $861,000 mansion after Rison and some friends returned home from an all-night outing, according to news reports.
Police said Lopes also slapped and cursed at Rison and smashed two cars outside his home.
Lopes turned herself in at the Fulton County Police Department the day after the fire. She was arrested and charged with arson in the first degree and criminal damage to property in the second degree.
Bond was set at $510,000. Rison would not comment on the fire, which completely destroyed his home.
Rison and Lopes have had troubles before. Last year, he was arrested in a grocery parking lot after allegedly hitting Lopes and firing a gun (JET, Oct, 11, 1993). The charges were dismissed.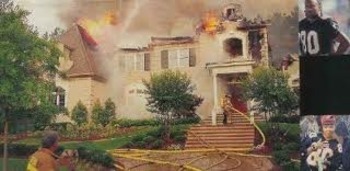 do you understand what im getting at?? WHAT WHITE PPL THINK, AND WHAT THEY DEFINE THINGS AS IS NOT THE STANDARD YOU SHOULD BE GOING BY. That is of course, if you are not mentally defeated by the complex of white supremacy, where everything whites do is the "right" way, where having straight hair and lightskin is "beautiful" but dark skin and nappy hair is "ugly"
You're doing it wrong. You take one and really fuck them up; make an example to the other kids. Like grab the small bitch and gouge her eyes out with your thumbs. Then curb stomp her.
Wiggars

I'm too militant
For you shithead crakkka hoes
I hope you all die