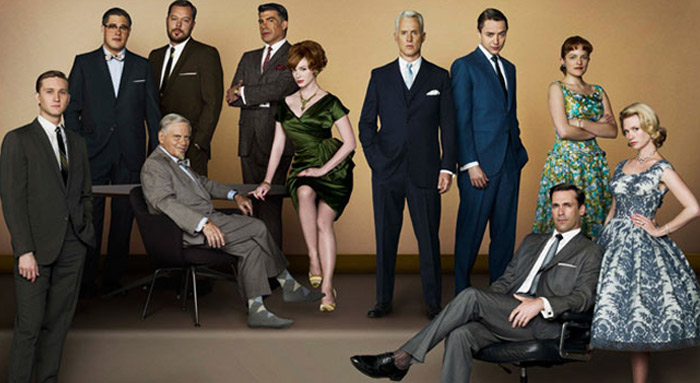 Just heard that its coming back on March 25th on AMC...
Lets Recap Season 4
SPOILERS!!!
"Public Relations"
Don's secretive demeanor results in an unfavorable interview by an Advertising Age reporter, leading an important client to fire his ad agency. Creative and Don struggle with a bathing suit account for which the client wants to project a wholesome image. Pete and Peggy work together to secure increased budget from a client with an ill-advised publicity stunt involving two women fighting over a baked ham. Roger attempts to find a girlfriend for Don, setting him up with a friend of his wife. Betty and the kids spend Thanksgiving 1964[1] with her new husband's family. Betty gets into a fight with Don over her delay in moving out of the house.
"Christmas Comes But Once a Year"
Don gets a Christmas letter from Sally which highlights his loneliness. Now 18 months sober, Freddy Rumsen turns up at SCDP with a new client, but his chauvinism leads to conflict with Peggy. Roger mistakenly invites Lee Garner, Jr. to the firm's Christmas party, forcing Lane to expand the party's budget beyond their means. Sally receives some awkward attention from a classmate. Don has a drunken one-night stand which affects a work relationship.
"The Good News"
Joan is trying to start a family with Greg, but her work schedule and his impending Army commitments make things difficult. Don takes a New Year's trip to California to see Anna, and meets her niece Stephanie, who delivers some unsettling news about Anna's health. Upon returning to New York, he finds Lane in the office, who has been experiencing family difficulties of his own. They spend a night on the town to get their minds off their troubles.
"The Rejected"
An edict from Roger and Lane puts Pete in a personal dilemma, as he must confront his father-in-law about an account. Pete also finds out from him the news that his wife is pregnant. A focus group for Pond's Cold Cream leads to a confrontation between Don and Allison over their one-night stand. Peggy begins a friendship with an employee of Life magazine who works in the building, and reacts to the news of Pete's upcoming fatherhood.
"The Chrysanthemum and the Sword"
Pete enters SCDP into a competition run by Honda, earning the ire of Roger, who, due to his anti-Japanese experiences from World War II, attempts to undercut the other partners' efforts to win the account. An executive from another agency attempts to position himself as Don's rival. Sally's erratic behavior disturbs Betty and Henry enough to seek a psychiatrist over Don's objections.
"Waldorf Stories"
After winning a Clio Award for the Glo-Coat ad, an inebriated Don inadvertently pitches executives from Quaker Oats a slogan for Life cereal that came from Roger's wife's cousin. Peggy secludes herself in a hotel room with the firm's new artistic director Stan Rizzo in order to complete a campaign. Pete is upset when he finds out that his one-time rival Ken Cosgrove will be joining the firm. Roger dictates his memoirs, and his initial encounter with Don is recounted.
"The Suitcase"

An impending deadline leaves the firm in disarray, as Don makes Peggy stay late to work on a Samsonite ad, missing a birthday dinner with her boyfriend. That night, Don receives a call from Anna's niece confirming his fears about her health, while an intoxicated Duck visits the SCDP offices in search of Peggy. The second Muhammad Ali vs. Sonny Liston fight serves as the episode's backdrop.
"The Summer Man"
Don attempts to regain control over his life through physical changes and journal writing. Betty forbids him from attending Eugene's birthday party, and is flustered when she and Henry run into Don and Bethany on a date. Don's persistence with Faye results in an impromptu dinner date. Joey's sexism creates friction with Joan, forcing Peggy to take action.
"The Beautiful Girls"
Peggy is forced to face some unpleasant facts about a client's discriminatory business practices. Don and Faye's burgeoning relationship is tested when Sally runs away from home and turns up at the office. Roger tries to rekindle his affair with Joan. Miss Blankenship unexpectedly drops dead at her desk.
"Hands and Knees"
After SCDP lands a contract with North American Aviation, Don and Betty are rattled when FBI agents visit the Francis home as part of the security clearance process. Joan finds out she's pregnant with Roger's child and considers having an abortion. Lane's father is displeased when Lane expresses his feelings for an African-American waitress at the local Playboy Club. Lee Garner, Jr. tells Roger that Lucky Strike is planning to terminate its contract with SCDP.
"Chinese Wall"
The employees of SCDP scramble to hold onto the rest of their accounts when word leaks of Lucky Strike's defection to BBDO. Roger lies to the rest of the firm about going to Raleigh to try to win back the account. While waiting for Trudy to give birth to their daughter, Pete is wooed by Ted Chaough at rival firm CGC. Megan shows interest in both Don and the advertising business.
"Blowing Smoke"
Don runs into his old flame Midge, and learns her life has taken a disturbing turn. After executives from Philip Morris cancel a meeting for potential business, Don has a full-page ad printed in the New York Times announcing the firm will no longer represent tobacco companies, incensing the other partners and causing Bert Cooper to resign in protest. Sally is upset when Betty and Henry discuss moving the Francis family to nearby Rye. Layoffs begin in the wake of the agency's financial troubles, reducing the staff by about 50%.
"Tomorrowland"
It's October 1965.[14] Don hires Megan to accompany him and his children on their trip to California after Betty fires Carla unexpectedly. Don proposes to Megan and she accepts. Peggy spearheads a new campaign for a pantyhose company. Betty and Henry prepare to move to a new house in Rye.
GOAT quotes