Trina and Lil Wayne together at LIV Nightclub.
I posted some photos of Lil Wayne at LIV Nightclub in Miami on May 13th with Kevin Hart earlier today, now here is some footage of Weezy and Kevin shouting out Trina, who was also in attendance. Tune says he still loves and misses her: "I just want to say if Trina is in here… Hey Trina, I love you and I miss you baby".
I'm sure you all already knew, but if not, Wayne and Trina used to be dating a few years back.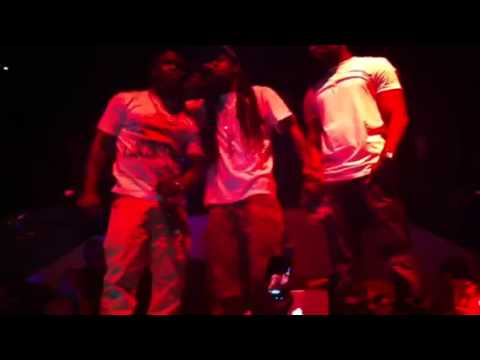 http://www.lilwaynehq.com/2012/05/lil-wayne-chris-brown-featured-on-games-five-single/
Tunechi and Zab Judah
It looks like Game has grabbed Lil Wayne for his new single once again, which will be the first track we hear from Game's forthcoming album. The song is called "F.I.V.E." (acronym for Fear Is Victory's Evolution) and feature both Weezy and Chris Brown. Sap is behind the production of the record and you can read what he said about the single to XXL after the jump below. The main points from his interview is that "'F.I.V.E.' is supposedly dropping on Memorial Day Weekend" and "Wayne killed it".
"I actually produced this record for Game called 'F.I.V.E.,' featuring Chris Brown and Lil Wayne," the Delaware based producer revealed to XXLMag.com. "That should be dropping anytime now. Supposedly it' dropping Memorial Day Weekend, but I'm not sure." The track is on pace to be the first new music released from Game's upcoming album, which the California native announced to XXLMag.com would be called F.I.V.E.: Fear Is Victory's Evolution back in March.
Sap thinks it's a sound that should be familiar to fans. "It's definitely got an East Coast style a little bit—it kind of reminds you of how that 'Real' joint is," he continued, comparing the production on the upcoming single with a joint that he did on Meek Mill's recent Dreamchasers 2 mixtape. "It's not a South beat. It's more of an up tempo beat, but it's not a club record. It's more of a traditional hip-hop beat, like a hard sample. It's Game's style but it's still something you can hear Wayne on, too."
The collaboration came about because of the young producer's relationship with Cool & Dre. "I was just sending Cool & Dre music, and next thing you know they was like, 'Keep sending beats, keep sending beats,'" Sap recalled. "They're executive producing the F.I.V.E. album. And next thing you know, Cool called me and he was like, 'Man, Game has this record called 'F.I.V.E.' It's crazy. It got Chris Brown and Wayne on it, Wayne killed it.' And then he was like, 'It's on your beat.' And I was like, 'Wow.'"