A sad tragic wrestling story who car wreck ended a promising career, NWA answer to HULK HOGAN who was one of the most popular wrestlers in the early 80's through out America 2nd only to Hulk Hogan, above Sgt Slaughter and havd the teeny boppers like the Von Erichs who was making Hogan style money at 500,000 a year all of that with out holding the NWA WORLD HEAVYWEIGHT CHAMPIONSHIP in which they was about to put the belt on him real soon, a great Mat wrestler who had power moves, great fueds with Ric Flair, Tully Blanchard, Nikta Koloff all ended in a car accident in his porsche in 1986.
Nikita Koloff vs. Magnum TA - September 13, 1986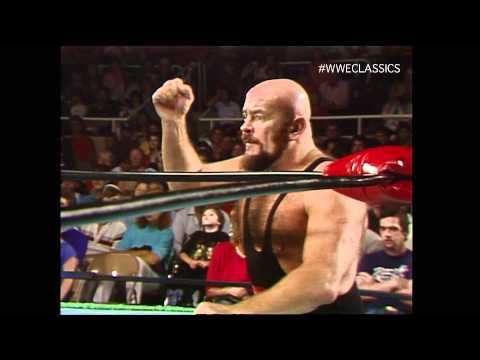 Terry Wayne Allen (born June 11, 1959) is a retired American professional wrestler, best known under the ring name Magnum T.A..

Allen started wrestling in 1977 and joined the National Wrestling Alliance, where he began competing for the Championship Wrestling from Florida and the Pacific Northwest Wrestling territories. While in the CWF, Allen would win the Global Tag Team Championship on five different occasions before then moving to Mid-South Wrestling. Upon debuting in Mid-South, Allen renamed himself to Magnum T.A. and adopted a character known as the "American Heart Throb", based on Allen's slight resemblance to actor Tom Selleck's television character Magnum, P.I..

Allen adopted the ring name after André the Giant suggested that he combine the Magnum name with the initials of his real name. After competing in Mid-South, he won the North American Heavyweight Championship, his first major title, after defeating Mr. Wrestling II on May 13, 1984. Magnum would hold the title for five months before he lost it to "The Cat" Ernie Ladd on October 16. On November 22, Magnum lost to Ladd via disqualification in a title rematch
The Top Ten Moves of Magnum TA
Jim Crockett Promotions
In 1984, the National Wrestling Alliance's Jim Crockett Promotions signed Allen. After debuting, Magnum began feuding with Wahoo McDaniel and defeated him for the United States Heavyweight Championship on March 23, 1985. At The Great American Bash, he successfully defended the title by defeating Kamala.[1] He then began feuding with the Four Horsemen before feuding solely with Horsemen member Tully Blanchard and his valet Baby Doll. On September 28, Magnum lost to the Horsemen's leader Ric Flair in a near-30 minute title match for Flair's World Heavyweight Championship.[1] Magnum would later lose his U.S. Title to Blanchard until Magnum regained the title in a famous "I Quit" match at Starrcade on November 28.
Ric Flair VS Magnum T.A. - NWA - 6/15/85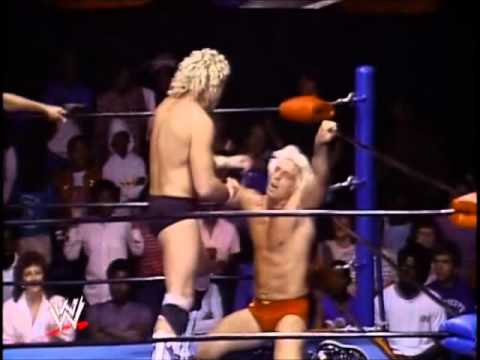 In April 1986, Magnum began feuding with Ivan Koloff, who had started proclaiming that his nephew, Nikita, would become the United States Heavyweight Champion. Jim Crockett, Jr. set up a contract signing for Magnum to defend his title against Nikita in May. At the signing, Magnum brought his mother, Marion, to the signing while Nikita brought Ivan. However, Nikita insulted Magnum's mother during the signing, instigating a fight. Then-president of the NWA, Bob Geigel, issued a public reprimand against Magnum for "conduct unbecoming a champion." Magnum replied, "Reprimand this!" while punching Geigel. As a result, Magnum was stripped of his title and it was put up in a best of seven series between Magnum and Nikita. After losing the first three matches in a row to Nikita, Magnum began a comeback, winning the next three matches to keep the series going. In the tie-breaking match on August 17, 1986 in Charlotte, North Carolina, Nikita defeated Magnum to win the title with help from Ivan and Krusher Khruschev.
Your best rapper saying 'YES, MASSA', when they beat 'em - HELL RAZAH