Forums
74.8K

Musical Conversation

62.3K

Collective Argument

3.5K

IC Talent Area

39.5K

Entertainment

357

Archives
What's up everybody! Just a quick message. We will be relaunching AllHipHop.com with the goal of keeping the community front and center. I have worked with Jamal and select moderators, to make sure The Illl Community's needs are being addressed as we evolve. We are encouraging you to use the new platform.
We will NOT be closing the current community, but we will be porting user data over to the new system over time, so please get used to using the new community!
We will be working on it every single day until it's exactly what you want!
Please feel free to join now, test, as we are in beta:
https://www.allhiphop.com
THE DUDLEY FAMILY (1995-1999)
THE ORIGINAL DUDLEYZ are Dudley Dudley, Lil' Snot Dudley, Big Dick Dudley
THE DUDLEY FAMILY
]
In professional wrestling, the Dudley family was a stable active in Extreme Championship Wrestling between 1995 and 1999.
The gimmick of the group was that, despite their obvious differences in physical appearance and race, the members were all said to be the sons of the fictional Willy Loman-esque "Big Daddy" Dudley, who had traveled America as a salesman throughout the 1960s and 1970s. Despite the differences in their races and sizes, the Dudleys shared a similar ring attire of taped glasses, unkempt hair, tie-dye shirts, high-tops and overalls. As a group they also utilized a few similar mannerisms. The real-life origins of the group were based on the Hanson Brothers from the 1977 movie Slap Shot.
DUDLEY FAMILY DOMINANCE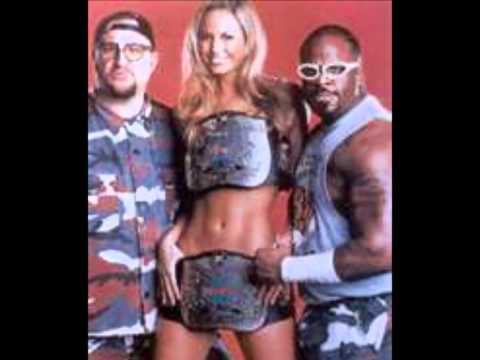 DUDLEY DUDLEY- Dudley Dudley was another Original Dudley. He tagged with first Snot Dudley and then with DW Dudley. Some of ECW's funniest promos were the ones about Dudley. His super-deep voice is hilarious and his stupid laugh... man! Dudley Dudley is the only 'true' Dudley - His mother was Momma Dudley, whereas the other Brothers were spawned from daddy Dudley's other love interests.

BIG DICK DUDLEY- barely speaks, he just shouts and growls like a beast. Along with Dudley and Snot, Big Dick was an original Dudley boy. He was hit by a truck in September 1995 and fractured his knee cap - putting him out of action for a while. He returned with crutches and finally lost them in mid 1996. Described by Gertner as 'wrestlings true masterdon'. He left around March 1999, but returned for Hardcore Heaven 99 in May where he showed a brief appearance gripping up Chris Chetti.
LIL SNOT DUDLEY- Snot Dudley One of the original Dudleys and the tag-team partner of Dudley Dudley. During the summer of 1995 he was super-bombed by the Pitbulls and smashed his pelvis. he was out of ECW.

THE DUDLEY BROTHERS-Bubba Ray Dudley along with D-Von would eventually be 8 time ECW tag-team champions. The most foul-mouthed degenerated Dudley of them all. As the years went by he got worse and worse. D-Von Dudley, previously Devon Dudley, came to ECW 6 months after his 'brother' Bubba Ray. He and Bubba were 8 time Champions - and therefore the most successful in ECW history.

Extreme Championship Wrestling

The Dudley family debuted in ECW on July 1, 1995 at Hardcore Heaven 1995, where the tag team of Dudley Dudley and Snot Dudley (accompanied by their enforcer, Big Dick Dudley) defeated The Pitbulls. Shortly after their debut, the Dudley family aligned themselves with Raven, temporarily joining Raven's Nest and briefly feuding with The Pitbulls.
After Snot Dudley was injured in a jet ski accident, he was replaced in August 1995 by Dances with Dudley, who was said to be the child of Big Daddy Dudley and a Cheyenne Native American woman. Dudley Dudley and Dances with Dudley teamed with one another through the latter half of 1995, competing against teams such as The Gangstas and the Bad Crew. In September 1995, Dudley Dudley and Dances with Dudley unsuccessfully challenged The Pitbulls for the ECW World Tag Team Championship.

In November 1995, the Dudley family was joined by Buh Buh Ray Dudley, a stuttering, dancing, overweight hillbilly who began teaming with Dances with Dudley against tag teams such as The Public Enemy and The Eliminators. In January 1996, Dances with Dudley and Buh Buh Ray Dudley unsuccessfully challenged Cactus Jack and Mikey Whipwreck for the ECW World Tag Team Championship.

The group was later expanded when the obese, slobbish Chubby Dudley and the mute, placard-wielding Sign Guy Dudley (the result of Big Daddy Dudley's incarceration in an asylum) began accompanying the Dudleys to ringside.
Bushwhacker Luke and Bushwhacker Butch even became honorary Dudleys for one night, said to hail from the "Little New Zealand neighborhood of Dudleyville"). At the Hardcore Heaven pay-per-view event in 1997, porn star Jenna Jameson acted as their one-time valet during their tag team title defense versus PG-13.
THE DUDLEY FAMILY vs THE PITBULLS (ECW)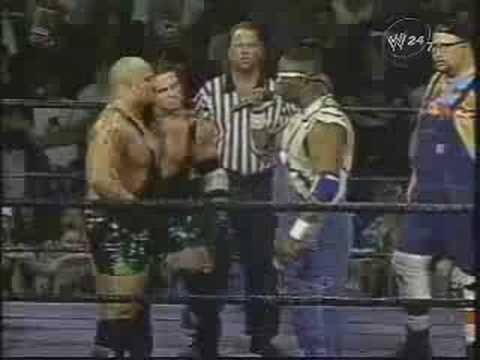 DANCES WITH DUDLEY-Dances With Dudley was an American Indian brother of Bubba Ray. His tenure in ECW was perhaps the shortest of the Dudleys, but proved popular with his comedic character. How is he related to the other Dudleys? Apparently Daddy Dudley was at an Indian settlement, whereby he met and fawnicated DW's mother.
Your best rapper saying 'YES, MASSA', when they beat 'em - HELL RAZAH