Y'all peep this article about the reasons there aren't as many 20 ppg scorers in the NBA anymore? Niggas prolly won't read, but aye, whatever. Here you go.
http://espn.go.com/blog/truehoop/post/_/id/53534/where-have-all-the-gunners-gone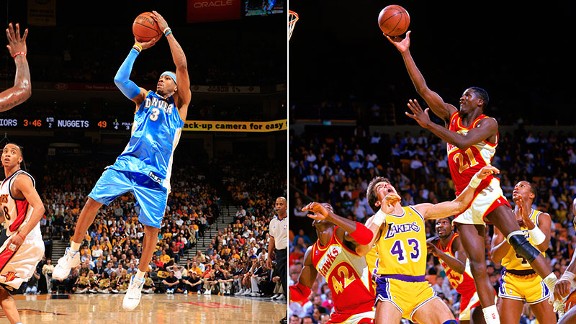 Brent Barry e-mailed. He was wondering why these days so few NBA players average 20 or more points per game.
There's just nine in the whole league, at the moment, he pointed out. As recently as 2007-2008 there were 27.
Three times as many!
Remember, those are the most exciting players to watch. The human highlight reels, the putting-butts-in-seats guys, the players a million kids on a million blacktops dream of becoming.
And two-thirds of them have essentially gone missing. As if stolen.
Gone with them are a bundle of special memories, including almost all the 50-point nights.
If aliens had lured them to another planet to start a highly rated hoops league there, we'd have a massive story worthy of Hollywood.
But they have disappeared in some other way that's tougher to notice. Slipped out the back door. And ... crickets. Our scorers have gone, our scorers have gone and ... barely a whisper.
What is going on?

Barry had some theories:
Playing-time cutbacks?
Lots of injured stars this season?
Teams playing at a slower pace?
This was serious. I fetched a legal pad and scribbled down those theories, and added some of my own:
Scoring down in general?
Top players shooting less by choice in the name of efficiency? (The highest salaries that used to go just to the highest points-per-game guys now tilt to those with the best scoring efficiency.)
More stars saving early-season energy for the playoffs?
Coaches giving more big minutes to elite defenders, which would both keep more shooters on the bench and make opposing scorers less effective?
Better team defense? The effective kind of rotating/switching defense that was an outlier for the Celtics in 2008 is now commonplace, which could make scorers less effective while also making those would-be big scorers more tired from running around so much?
Scoring

Scoring is down, a little. A typical NBA team so far this season has scored about 98 points per game. That number was 99.9 in 2007-08, and a whopping 109.9 in 1986-87. It's part of the story, but it's not the whole thing.