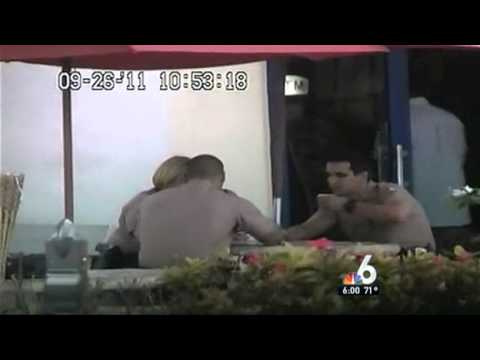 A group of Miami-Dade police officers was disciplined following a 2010 internal affairs investigation, police documents showed.
Five police officers and one sergeant with the Kendall squad were allegedly caught on camera ignoring emergency dispatch calls. The video below shows incidents like one on Oct. 5, 2010 where Officer Dario Socarras apparently ignored a residential burglary call and chose to meet a woman at the Dadeland Mall parking lot.
The video shows the officer hugging and kissing the woman in what the police investigation calls a public display of affection.
That is classified as departmental misconduct or conduct unbecoming of an officer, according to police. A little later that day, Officer Socarras, Officer Jose Huerta and their Sergeant Jennifer Gonzalez were videotaped drinking coffee at a Casa Larios when an emergency call came in with an alert about an unconscious 5-month-old, police said in investigation records.
Socarras was dispatched to the scene and despite being with his sergeant, he continued drinking his coffee. Nine minutes later he was cleared from the call, according to police. Moments later the dispatcher asked Socarras to check out a signal 37, or a suspicious vehicle. He said in a radio transmission that he was en route, but investigators said it took him 25 minutes to respond.
At the end of the investigation Sgt. Gonzalez and officers Dario Socarras, Jose Huerta, Ivan Tomas, Fabian Owens and Jeffrey Price all received a relief of duty memorandum dated Dec. 28, 2010.
Officer Socarras, who was also accused of doctoring reports to reflect that he had responded to the calls, wrote a memo to his lieutenant saying that at no time did he intentionally violate departmental rules or regulations.
Socarras, Huerta and Gonzalez have been fired by the Miami-Dade Police Department, according to the internal affairs report. Several more officers have been disciplined and some are expected to appeal their punishment.