Forums
74.7K

Musical Conversation

62.2K

Collective Argument

3.5K

IC Talent Area

39.4K

Entertainment

357

Archives
What's up everybody! Just a quick message. We will be relaunching AllHipHop.com with the goal of keeping the community front and center. I have worked with Jamal and select moderators, to make sure The Illl Community's needs are being addressed as we evolve. We are encouraging you to use the new platform.
We will NOT be closing the current community, but we will be porting user data over to the new system over time, so please get used to using the new community!
We will be working on it every single day until it's exactly what you want!
Please feel free to join now, test, as we are in beta:
https://www.allhiphop.com
Do You Have Race Specific Sexual Fantasies?
As Rex has become older his sexual proclivities become more "evolved." As a young lad, Rex felt that cunninglingus was the most deplorable and retched of acts, now nobody, (male or female,) can like the twat better than ole Rex.

Now Rex has found that he's developed certain sexual fantasies that can only be achieve by certain races of females.

Antebellum Slave Mistress/Mandingo Sex

I've mentioned this fantasy one several occasions on this thread. It involves a white girl, (preferably a Southern chick with the soft accent,) wearing one of these:
or this
Babygirl would have a snotty attitude and call a muthafucka all kinds of niggers, (she can't drop the "er" she has to say "nigger,") she would be talking about "Give me that nigger cock." "Fuck my precious white cunt." Dumb that nigger cum in my face." Shit like that. As I once told Ms. Kat to really get it poppin' the chick should have this room set:


A-Rab, Persian, etc. Infidel Sex
This is basically the same fantasy as the Antebellum Slave Mistress/Mandingo Sex Fantasy except it involves a Middle Eastern chick, the fantasy can work with a European or African Muslim, but it's that much hotter with a chick that's from the land of Muhammad. She would call me a nigga, both in English and Arabic and other perjoratives for black people. She'd also call a nigga all kinds of infidels, a Jew sympathizer, an American imperialist, and talk about "waging jihad on my dick." For finale, when she nuts, she would scream "Allah Akbar, Allah Akbar." She would have on a hijab or a burka, with a belly dancer suit, nothing at all, or a suit.
Another fantasy I have for Middle Eastern chicks is to dress them up in a Barbara Eden, "I Dream of Jeannie," suit.
This the complete opposite of the other fantasy in that the chick is very submissive, very willing to please, and calls a nigga, "Master." Blondes are suitable substitutes for this fantasy.
Me Love You Long Time
I don't have to tell you the race involved in this fantasy, however I do have a preferred ethnicity. Japanese, and I want her in what me an my potnas have dubbed "an Ako suit," aka the Japanese school girl uniform.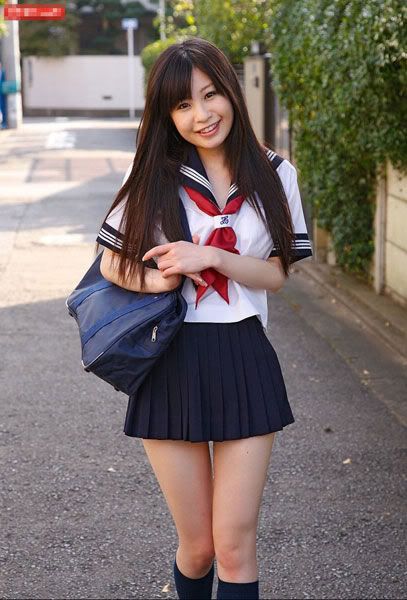 The Ako suit is called such because my potnas and I noticed that all the chicks in animes wore the same outfit that Ako, from "Project Ako wore. This fantasy is borderline "Ghetto Gaggers I would try to break "mama san," in half like the evil demon robot monsters from Legend of the Overfiend. Especially if she's one of those really short and cute Asian chicks, and you know I have to her saying all this shit:
http://www.youtube.com/watch?v=12tce-THLUE

Angry Ratchet Ole Nigga Bitch Sex
This involves an a black chick with an attitude problem. She would made little comments about a nigga not being about shit, Doubting the fact Rex is about to do a "Trent Reznor," on her ass and we would basically cuss each other while having extreme primal sex.
"There are three types of baseball players: those who make it happen, those who watch it happen, and those who wonder what happens."
―Tommy Lasorda