Forums
74.8K

Musical Conversation

62.3K

Collective Argument

3.5K

IC Talent Area

39.5K

Entertainment

357

Archives
What's up everybody! Just a quick message. We will be relaunching AllHipHop.com with the goal of keeping the community front and center. I have worked with Jamal and select moderators, to make sure The Illl Community's needs are being addressed as we evolve. We are encouraging you to use the new platform.
We will NOT be closing the current community, but we will be porting user data over to the new system over time, so please get used to using the new community!
We will be working on it every single day until it's exactly what you want!
Please feel free to join now, test, as we are in beta:
https://www.allhiphop.com
Herpes From McDonalds "Special" Mayo
You Won't Believe What Was In Her McDonald's Mayo 'The Texture Was Familiar'. A Michigan woman was in disgust last week when she ate at a local McDonald's. Lisa McDowell, 31, was having lunch with her friends when she decided to order a McChicken sandwich. She was halfway through with her sandwich when she noticed an extra clump of mayonnaise on the side of the bun. She licked it off, tasted it and immediately realized things were not right. "I'm not gonna lie," McDowell said. "On Birthdays and holidays I give my man a little something extra in the bedroom, you know? So when I licked the mayo off of the bun, the texture was familiar."
McDowell immediately called over the manager who denied the allegations, so she contacted the local health department. They sent the "mayo" remains off for testing and the results were positive for 2 different types of semen. To make matters worse, in the following days, McDowell woke with a giant red rash on the corner of her mouth. The rash spread and developed into severe blisters. The doctor was able to verify that she had contracted the herpes virus, which she claims was a result of her tainted McChicken.
The manager confirmed that two employees were fired as a result of her allegations and the positive semen test results. The manager of the McDonald's also added, "We can't always keep an eye on our employee's conduct. We can only hope, during the interview process, that we are able to hire employees that meet our companies standards.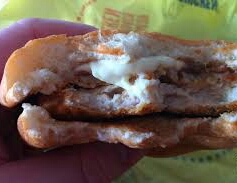 I don't have dreams I have goals. Dreams are what you have when you are sleep. Goals are what you strive to reach when you are awake!