Forums
74.7K

Musical Conversation

62.2K

Collective Argument

3.5K

IC Talent Area

39.4K

Entertainment

357

Archives
What's up everybody! Just a quick message. We will be relaunching AllHipHop.com with the goal of keeping the community front and center. I have worked with Jamal and select moderators, to make sure The Illl Community's needs are being addressed as we evolve. We are encouraging you to use the new platform.
We will NOT be closing the current community, but we will be porting user data over to the new system over time, so please get used to using the new community!
We will be working on it every single day until it's exactly what you want!
Please feel free to join now, test, as we are in beta:
https://www.allhiphop.com
Yankees Fan who fell Asleep During Game is Suing is MLB & ESPN For $10 Million for making fun of him
A disgruntled Yankees fan who was caught sleeping through a recent game against the Boston Red Sox is suing after two announcers poked fun at his slumber on camera.
The New York Post reports Andrew Robert Rector filed a $10 million lawsuit against Major League Baseball, ESPN, and announcers Dan Shulman and John Kruk for allegedly directing a mean-spirited "avalanche of disparaging words" after he fell asleep in the stands during the game April 13.
Rector's oddly worded filing accuses the announcers of painting an inaccurate portrait of him, specifically one of a "fatty cow that need two seats at all time and represent symbol of failure," as he writes in his lawsuit.
The lawsuit also says the comments presented Rector as a "confused individual that neither understands nor knows anything about history and the meaning of rivalry between Red Sox and New York Yankee" and a "socially bankrupt individual."
Rector claims he was subsequently defamed and is now suffering from emotional distress.
The "verbal crusade" in question is posted online by Major League Baseball's official YouTube account: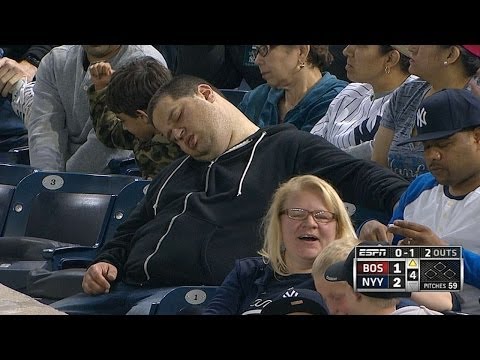 http://www.huffingtonpost.com/2014/07/07/andrew-robert-rector-_n_5564832.html?utm_hp_ref=weird-news&ir=Weird+News