Forums
74.8K

Musical Conversation

62.3K

Collective Argument

3.5K

IC Talent Area

39.5K

Entertainment

357

Archives
What's up everybody! Just a quick message. We will be relaunching AllHipHop.com with the goal of keeping the community front and center. I have worked with Jamal and select moderators, to make sure The Illl Community's needs are being addressed as we evolve. We are encouraging you to use the new platform.
We will NOT be closing the current community, but we will be porting user data over to the new system over time, so please get used to using the new community!
We will be working on it every single day until it's exactly what you want!
Please feel free to join now, test, as we are in beta:
https://www.allhiphop.com
Cinema Etiquette and (some) Black People (especially Black Women).
I will preface this by saying im very well aware that Stereotypes and Generalizations are bad , but this shit is real and fuckin annoying and can be embarrassing.

So i went to watch "Get Out" on Friday at AMC Magic in Harlem (great movie by the way highly recommend it for those who aint seen it by now), some of the behaviour is pretty appalling from the jeering, cussing , to screaming at the screen, to loud conversations, checking and texting your phones during the movie, then when people kindly ask for you not to do that because you want to concentrate or hear the dialogue they get all defensive and mad.

This has happened in every movie I have gone to see where there is a predominately large Black audience and "alot" of black women i have seen or been around are really the biggest perpetrators of this shit , trynna make themselves the centre of attention instead of the movie we all equally paid money to go watch.

I dont mind people enjoying the movie and reacting with whats going on screen which does make the cinema experience really good especially if everyone is into the movie but some of the behaviour is fucking uncalled for and really seems exaggerated, and im sorry to say but when i go to neighbourhoods with predominately white audiences its never ever like this.

Anyone else have a problem with this ,does this or has noticed this and do you have an issue with it ?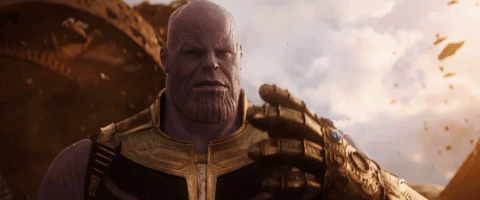 Thanos 3:16 says.."I just whooped your ass!!!"