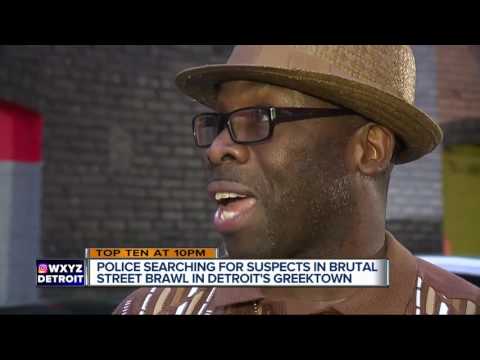 Detroit police are investigating a violent brawl in Greektown on Saturday night that left one man hospitalized.
The incident, which was filmed and posted to Facebook, is the second videotaped fight within a week in Detroit that shows several people cheering instead of helping.
In the most recent fight, police say people filmed and cheered, which has drawn the ire of Detroit's top cop.
"All those people were out there with their cellphones, and instead of calling the police, they video it for Facebook," Chief James Craig said. "This is extremely disturbing."
Eventually, two 911 calls were made and police arrived on the scene "relatively quickly," Craig said, but the fight was already over.
The 51-second shaky video of Saturday's fight begins by showing an apparently unconscious man lying on the sidewalk outside the Greektown Parking Garage at the corner of Monroe and St. Antoine. The camera then pans to a man pulling another man by the leg, while others jump in and begin kicking and beating him.
Two of the men then rush over to another man lying on the sidewalk and begin beating and kicking him amid shouts from onlookers. The camera sweeps left, showing a man knock down another man with a punch; the victim falls next to the prone man who was in the video's initial shot.
The second man is attacked for a few seconds before he's able to get up. One man delivers a punch to the first man's head before walking away.
Several people are seen on the video laughing as the men are beaten. Another group stands outside St. Mary's Catholic Church watching the fight.
Finally, a man wearing a red vest waves his hands, gesturing in an apparent effort to stop the others from further beating the prone man.
"We have identified the victim, who is in the hospital," Craig said. "Now, we're trying to ID the suspects. There's more video to look at; it's Greektown, so there's lots of surveillance video to go through."
The victim's condition was not known Sunday.
"We just had the situation last week (in Rouge Park, when two women were stabbed while others cheered and recorded cellphone video)," Craig said. "There was the case in Chicago recently, where a sexual assault was videotaped. It's extremely troubling that people can video these crimes in progress for Facebook, but they can't call the police.
"We're not going to put up with this. People need to know: If you're going to do this sort of thing, we will respond."
In the Rouge Park incident, a 21-year-old woman was arrested and charged with assault with intent to murder, assault with intent to do great bodily harm, and felonious assault in connection with the alleged stabbing of a 30-year-old Detroit woman, whose injuries were not thought to be life-threatening.
After that stabbing, Detroit police increased patrols in nearby parks.
ghunter@detroitnews.com
http://www.detroitnews.com/story/news/local/detroit-city/2017/04/16/facebook-video-captures-violent-greektown-brawl/100551464/