Forums
74.6K

Musical Conversation

62.2K

Collective Argument

3.5K

IC Talent Area

39.3K

Entertainment

357

Archives
What's up everybody! Just a quick message. We will be relaunching AllHipHop.com with the goal of keeping the community front and center. I have worked with Jamal and select moderators, to make sure The Illl Community's needs are being addressed as we evolve. We are encouraging you to use the new platform.
We will NOT be closing the current community, but we will be porting user data over to the new system over time, so please get used to using the new community!
We will be working on it every single day until it's exactly what you want!
Please feel free to join now, test, as we are in beta:
https://www.allhiphop.com
Swizz to defend his crown against Timbo
http://hiphopdx.com/news/id.44064/title.timbaland-accepts-swizz-beatz-beat-battle-challenge
During a press conference on Friday (July 14) for the upcoming Floyd Mayweather vs. Conor McGregor fight, producer Swizz Beatz grabbed the mic and challenged fellow beatsmith Timbaland to a beat battle, claiming he'd been "talking shit."
"Timbaland wanna talk shit too," Swizz said. "Timbaland wanna talk shit, so everybody out there tell Timbaland we can have a battle. We can battle. We can do whatever he wanna do."
Timbaland accepted his offer in an Instagram video of his own. "Swizz … challenge accepted," Timbo said. "I'm with the smoke. That's right. You hear that Game of Throne? You have woken up the king."
Swizz responded via Twitter with, "You don't want no smoke."
Ten years ago, Swizz battled Kanye West at a Hot 97 Summer Jam and he recently took on Just Blaze during an Instagram Live battle. He was also in the studio with Pharrell recently and there was a rumor floating around that a Pharrell vs. Swizz battle was also on the table, but for now, we'll have to see how Timbo stacks up against the Bronx native.
No official date has been set for the epic showdown as of yet, but plenty of fans are hyped for the impending battle, while others are evidently still waiting on the Pharrell vs. Swizz event. Check out those below.
"lose money or lose sleep"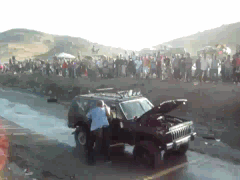 [img][/img]