Forums
74.9K

Musical Conversation

62.3K

Collective Argument

3.5K

IC Talent Area

39.5K

Entertainment

357

Archives
What's up everybody! Just a quick message. We will be relaunching AllHipHop.com with the goal of keeping the community front and center. I have worked with Jamal and select moderators, to make sure The Illl Community's needs are being addressed as we evolve. We are encouraging you to use the new platform.
We will NOT be closing the current community, but we will be porting user data over to the new system over time, so please get used to using the new community!
We will be working on it every single day until it's exactly what you want!
Please feel free to join now, test, as we are in beta:
https://www.allhiphop.com
Get The Billboard Musicians Guide to Touring & Promotion Summer-Fall 2010
Because im always willing to hook people up with free ish.. this is no joke all the contacts in this pdf are legit and up to date, this is everybody you need to know and get in contact with to set up anything from a nation wide tour to a group of shows in your local area.. trust me this information is priceless if you apply yourself..
Get your free copy of The Billboard Musicians Guide to Touring & Promotion Summer/Fall 2010 Edition.
Index Screenshot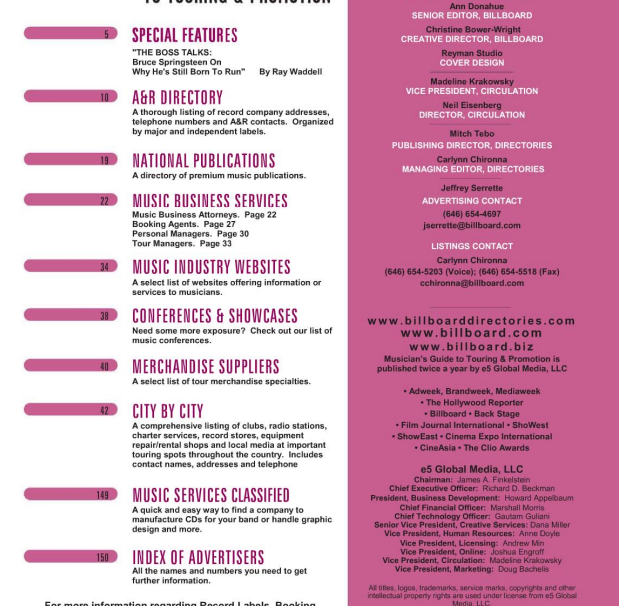 Contacts Screenshot
Everybody thats serious about getting somewhere with their music should grab a copy, this shit could jump start your career.. because its not the music that gets you places its the people you can present it too, without the proper promotion even the hottest artist wont sell shit by comparison..
Peace Out,
Wake N Bake