espn anchor didnt like suggestion that she was flirting with wes walker
At the end of a Tuesday edition of "SportsCenter," Steve Weissman jokingly told his married co-anchor that she appeared to be flirting with Wes Welker during an earlier interview. It went over about as well as you'd expect.
Watch as Sage Steele rolls her eyes, nervously looks off camera and shoots down Weissman as the credits roll. Such are the perils of live television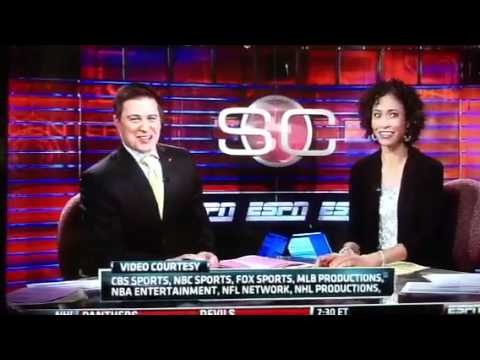 Having had many of my comments received with that embarrassing look from women, I feel I can provide some insight into Steele's behavior. She wasn't embarrassed at the suggestion of flirtation. No, she blushed because the assertion itself was so preposterous. Go watch the edited clip of the interview on Deadspin and you'll see.
When Weissman says she's flirted, she doesn't make a "Hey, I'm married and have three kids" look as much as she makes a "Seriously? Did you watch that interview? I stumbled over his name, rambled questions about Gisele and then asked him whether he received advice for his wedding. That was Chris Farley with Paul McCartney awkward. If that's flirting, I feel sorry for the women you meet in bars, Steve Weissman" one.
Or maybe she was shooting daggers at him, I don't know. Perhaps I like to think my interpretation of tones and looks from the opposite sex is better than it really is. [My fiancee enthusiastically nods.]
interview with wes welker here
http://deadspin.com/5905077/sage-steele-did-not-appreciate-steve-weissman-suggesting-she-flirted-with-wes-welker