"Babylon is suddenly fallen and destroyed: howl for her; take balm for her pain, if so be she may be healed. We would have healed Babylon, but she is not healed: forsake her, and let us go every one into his own country: for her judgment reacheth unto heaven, and is lifted up even to the skies."
Jeremiah 51:8-9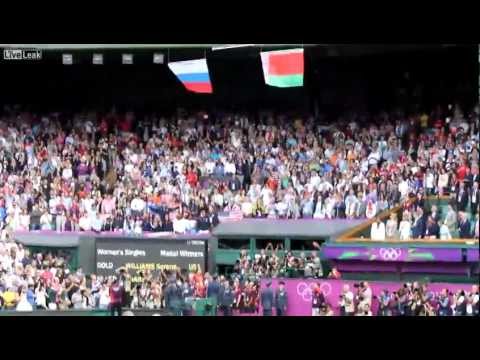 Well, well, well say it ain't so! The flag of the USA just happens to fall at the Olympics, which is watched around the world, at the same exact time as the national anthem is playing the part: "AND OUR FLAG WAS STILL THERE"! Wow, It can't be! No, well maybe that was just happenstance. Or no maybe that was just a coincidence. No way, this couldn't be a sign from the Al-Mighty. There's no way that could be possible! :-$
Let's just go through the symbolism though for good measure!
Hmmmmm.......Let's see,
1. America gets first place and is crowned the champion.

"And the woman which thou sawest is that great city, which reigneth over the kings of the earth."
Revelation 17:18
2. Speaking of the woman, Serena Williams won the competition for the USA.
"So he carried me away in the spirit into the wilderness: and I saw a woman sit upon a scarlet coloured beast, full of names of blasphemy, having seven heads and ten horns. 4And the woman was arrayed in purple and scarlet colour, and decked with gold and precious stones and pearls, having a golden cup in her hand full of abominations and filthiness of her fornication: 5And upon her forehead was a name written, MYSTERY, BABYLON THE GREAT, THE MOTHER OF HARLOTS AND ABOMINATIONS OF THE EARTH."
Revelation 17:3-5
(And no, I am not calling Serena Williams a harlot, just implicating the spiritual symbolism that God is communicating to those who have eyes to see, and ears to hear.)
3. Russia and Belarus were the 2 other countries that had their flags raised during the ceremony. And Belarus use to be part of the USSR before the break up of the Soviet Union.
"For, lo, I will raise and cause to come up against Babylon an assembly of great nations from the north country: and they shall set themselves in array against her; from thence she shall be taken: their arrows shall be as of a mighty expert man; none shall return in vain."
Jeremiah 50:9
My, My, My, My, My, My, My........All these strange circumstances occurring for no particular reason whatsoever! I guess these are just things that make you go hmmmmmmmmmmmmmmmm!
OR, God is speaking and letting His people know that the day of sudden destruction is almost here.
"And I heard another voice from heaven, saying, Come out of her, my people, that ye be not partakers of her sins, and that ye receive not of her plagues."
Revelation 18:4
Will you be obedient? Will you get out in time? Will you go to the place of safety?
"Ye that have escaped the sword, go away, stand not still: remember the LORD afar off, and let Jerusalem come into your mind."
Jeremiah 51:50
Amen and Amen.