Firefighters rescue stuck burglar from California chimney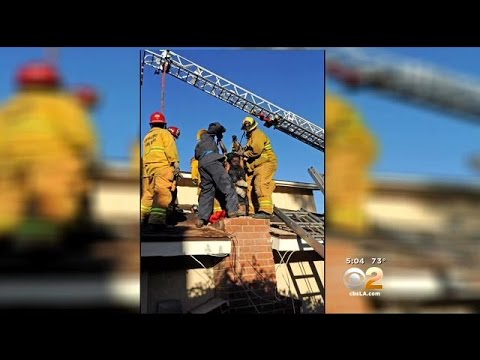 For two hours firefighters worked to get a suspected burglar out of a chimney at an Thousand Oaks home on Sunday morning and ultimately used dish soap to release her from one jail to another.
BY Nicole Hensley
NEW YORK DAILY NEWS
Published: Sunday, October 19, 2014, 7:02 PM
Updated: Sunday, October 19, 2014, 10:30 PM
It took a glob of dish soap squeezed by California firefighters to lubricate a suspected burglar escape from a chimney.
Reports of a woman stuck in a chimney heralded an appearance by Ventura County Fire Department, which attempted to dismantle the brick tower at a Thousand Oaks home early Sunday morning.
The alleged burglar reached for firefighters after getting stuck in a chimney early Sunday morning.
The woman's arm, blackened with soot, reached for firefighters, photos from Capt. Mike Lindbery show, before she was plucked to safety after a two-hour rescue involving drills and a stokes basket.
The woman, later identified as Genoveva Nunez-Figueroa, definitely had no business 8-feet down the chimney, the owner of the two-story home informed police, prompting her arrest on burglary charges after a trip to a hospital, according to KNBC-TV.
This is the second time Nunez-Figueroa, 28, has made an unwanted visit to the man's home after he ended their brief relationship, according to KABC-TV.
The former couple apparently met online.
http://www.nydailynews.com/news/crime/firefighters-rescue-stuck-burglar-cali-chimney-article-1.1979854