What's up everyone. We are doing a contest with T.I. and we are giving away $1200 a day for the next 10 days. Just wanted to give you all a heads up.
https://www.allhiphop.com/ti
Anybody remember when Lisa "Left Eye" Lopez burned down a mansion?
soul rattler
Chief Petty Officer of the Ill Community Naval Command
HOOYAH
Members
Posts: 18,852
✭✭✭✭✭
TLC member charged with setting Andre Rison's Georgia home on fire
Rap singer Lisa "Left Eye" Lopes of the hit group TLC faces arson charges in a fire that destroyed the house of her boyfriend, football player Andre Rison, in the exclusive Atlanta suburb of Alpharetta, GA.
Lopes, 24, is accused of setting fire to cardboard in an empty whirlpool at the Atlanta Falcons football star's two-story stucco $861,000 mansion after Rison and some friends returned home from an all-night outing, according to news reports.
Police said Lopes also slapped and cursed at Rison and smashed two cars outside his home.
Lopes turned herself in at the Fulton County Police Department the day after the fire. She was arrested and charged with arson in the first degree and criminal damage to property in the second degree.
Bond was set at $510,000. Rison would not comment on the fire, which completely destroyed his home.
Rison and Lopes have had troubles before. Last year, he was arrested in a grocery parking lot after allegedly hitting Lopes and firing a gun (JET, Oct, 11, 1993). The charges were dismissed.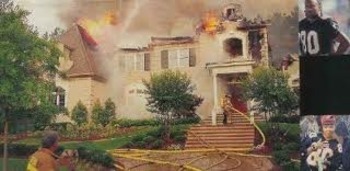 Comments