What's up everyone. We are doing a contest with T.I. and we are giving away $1200 a day for the next 10 days. Just wanted to give you all a heads up.
https://www.allhiphop.com/ti
**2011 NFL LOCKER-ROOM CANCERS** Which homotional "Diva" will "T.O." their team....
...And every year you have that dude that's salty about something and starts 🤬 that helps cause an implosion on a otherwise decent team.
🤬 is always sweet in July when everybody thinks they gon' win rangs, but when 🤬 get's real...
It WILL happen and here's who I think are the leading candidates...
1. James "Evans" Harrisson.
- That 🤬 he said (true or not) was uncalled for. And it clashes with
the kind of style and rep the Steelers have had over the years. The Steelers chemistry has been what's
kept them a step ahead of teams like the Ravens over the years, and now they may have lost that edge.
A team can only take so much drama. It eventually buried the Cowboys in the 90s, and the same can
happen today.
2. Desean "U mad" Jackson
- I know eagle fans don't wanna hear it, but dudes ego is slightly
bigger than his game and being surrounded by players with new multi-million dollar tenders and contracts
while he gets less publicity and just half a millie is a recipe for disaster if the eagles have a slump
(which they will. And based on the expectations of their team and their fans, a slump = one loss.)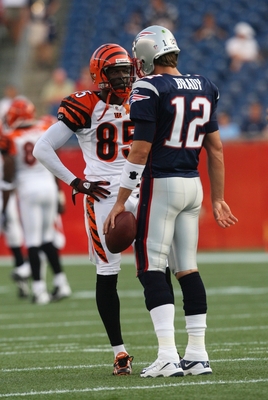 3. Chad "Twitter" Johnson. Yes, Johnson.
- Go back to the Desean Jackson one, take out the money issues and add about 10 years of age and less playmaking ability. Everybody (for some reason) is expected another 2007 run. And if they fall short of that in a division that is getting tougher by the second -- Chad will be the first to say something stupid.
WILD CARD PICK...
4. Roddy "Greatest Show on Turf" White
- Nowhere near as much attitude as the players above, but he speaks his mind and doesn't pull punches. Also tends to talk 🤬 via twitter quite often. I doubt he'd ever be too much of a problem, because he seems pretty level headed and humble, but Julio is ALREADY the talk of the league when it comes to the Falcons, and I wouldn't be surprised if feelings get caught if Julio becomes the first player since Mike Vick to get "Vick/Prime-Time-caliber" love in ATL. (Something Roddy and Matty have yet to do.)
Feel free to add -- or 🤬 yourself. Don't make me none. lol
Comments