What's up everyone. We are doing a contest with T.I. and we are giving away $1200 a day for the next 10 days. Just wanted to give you all a heads up.
https://www.allhiphop.com/ti
Werd (SOS) - Untitled Scot [2012]
Werd (SOS) debut release 'Untitled Scot'...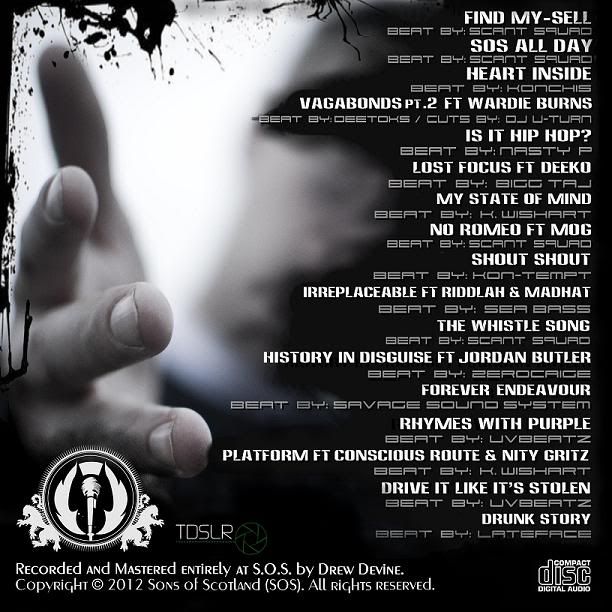 Released: July 31st, 2012
Werd (SOS) is an award winning, Edinburgh based hip-hop artist well known throughout the Scottish scene. He has worked with, and continues to work with new and old artists in Scotland and abroad, creating music with some of Scotland's top producers and artists in the genre. Further to performing gigs at venues in the major cities, and hosting rap battles with Scotland Stand Up and UK's Don't Flop, Werd has excelled in this field, supporting the likes of Dr Syntax, Stig of The Dump, S.A.S. and Devlin in recent times.
As one of Scotland's most established rappers, with countless mix-tape release and collaboration projects, it is remarkable that this is Werd's first solo album. With a variation of styles and content it's difficult to categorize this release to a specific tone, however that also means whatever style of hip-hop you prefer, there's something here for everyone. This is a must have for fans of UK / Scottish hip-hop.
CD Digipack order link:
http://untitledscot.weebly.com/
Itunes:
http://itunes.apple.com/us/album/untitled-scot/id542634156
Stream for free via Spotify or
http://werd.bandcamp.com/
Cover photo from TDSLR Photography.
Recorded and Mastered entirely at S.O.S. by Drew Devine.
Copyright © 2012 Sons of Scotland (SOS). All rights reserved.