What's up everyone. We are doing a contest with T.I. and we are giving away $1200 a day for the next 10 days. Just wanted to give you all a heads up.
https://www.allhiphop.com/ti
Weekly Business Fashion must-haves
I know what it was like when I first started working in a business environment. I had no one to really help guide me in my transition college to career. It's frightening. Which combos work? Pocket square too much? Socks, belts, shoes, what matches, what doesn't? Should I just be one of these corny dudes who just wear a million shades of the same color and say "I match?" It's scary. I know what it's like and I'm here to help put on and anyone else who wants to share can.
Reasoning for the GnS
I do not want this in Growing Pains b/c this is an issue anyone can face with their first office job. It's not in simpl;y business or fashion forward b/c no one goes to the former and only overmatching no style having 🤬 post in the latter(just being honest here)
I would love if women could handle the women's side, but I love women's fashion(especially fall) and it's about to be fall, so I can do the first couple.
First for the gentlemen, I'm going to introduce you to the Navy Blue Blazer. Easily THE single most versatile item in the business wardrobe. Seriously, there isn't a piece that will work for more occasions than the navy blue blazer. For the sake of this thread, let's go with J. Crew's fall 2012 blazer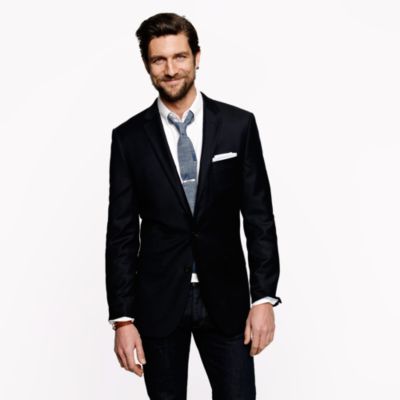 Let me add this caveat, I'm not a fan of this blazer personally. Nothing against it, it's really nice, but I don't like the black buttons. I have 2 blue blazers(one from J. Crew) and mine with the gold buttons definitely gets more play from me. Anyways, still a good blazer.
As you can see here, this gentleman is wearing his with jeans, which I have been known to do on casual friday. It can also be paired with a nice flat front sand colored pair of chinos for what's known as the "california tuxedo" It's a classic look. Can't go wrong. In the world of suit separates(I only wear a full matching suit for big events these days), you can never go wrong with the blue blazer. Looks amazing with ANYTHING except black pants. Not that it can't work, I just haven't tried it. Gray slacks - check, brown slacks - check, olive slacks - check(with the right shirt). But you get my points. Personally, if I was building my wardrobe again and had to choose between a suit or blazer and couple slacks, I'm choosing the navy blazer and a couple pairs of slacks 10 times outta 10.
Comments