What's up everyone. We are doing a contest with T.I. and we are giving away $1200 a day for the next 10 days. Just wanted to give you all a heads up.
https://www.allhiphop.com/ti
Mother-Daughter Porn Duo Jessica Sexxxton, Monica Sexxxton Aiming To Be Filthy Rich
A mother and daughter duo from Florida have created a porn site where they perform and film sex scenes together.
Known as The Sexxxtons, mother Jessica Sexxxton, and daughter Monica Sexxxton have been creating sexual content for their namesake website since last year and have recently released a DVD.
Monica, 22, told the Huffington Post: 'I enjoy the sex and I enjoy being with my mom. During the scenes, I think about how we're going to be filthy rich.'
After their family, including her younger brother, were about to be evicted from their home three years ago, Monica said she decided to become a dancer and get into porn to cover expenses.
Monica, who was previously a bartender, worked as a dancer, and suggested her mother give porn a try before she did it herself - to which Jessica agreed.
'I've always been an exhibitionist and sex just oozed out of me,' Monica, who lost her virginity at the age of 12, said.
'It was my idea. I dropped out of school in ninth grade and figured this was a good way to earn money.
'The money was part of the reason, but so was fun, and having sex with hot guys.'
Although the pair have sex at the same time while on camera, usually with the same partner, for legal reasons they don't actually touch each other during the sex scenes.
Jessica, 56, said: 'We don't have a problem doing two-on-one. We will have sex with one man, but not interact with each other.'
Monica added: 'It's not easy to do. Our lips never touch and that can be a problem when filming.'
'I've always been an exhibitionist and sex just oozes out of me'

While they argue that these precautions keep their scenes from legally being incestuous, other people disagree.
Dr. Carole Lieberman, a psychiatrist in Beverly Hills, believes their activities are equal to 'emotional 🤬 .'
'This crosses so many lines... Even if they're not having sex with each other, it has to be titillating to one or both or them, so it crosses the line since sexual arousal comes into the mix.'
The Sexxxtons say they do have limits, however.
Monica doesn't want to film scenes with animals or her younger brother, she said.
'He's a 🤬 and I don't want his first sex experience to be with someone who is just doing it for money and isn't into him.'
While the Sexxxtons usually only have sex together when the camera is rolling, Jessica admitted to having a threesome with one of her boyfriends and her daughter.
We were talking about sex and it happened. We all had a good time.'
Although Monica see filming sex scenes with her mother as a way to make a substantial amount of money, adult film historian Bill Margold doesn't believable they will be successful in mainstream porn.
He said: 'The adult industry is not that stupid. They have enough problems without creating on-camera 🤬 .'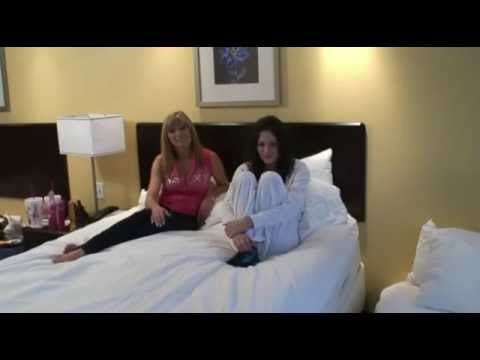 Comments