What's up everyone. We are doing a contest with T.I. and we are giving away $1200 a day for the next 10 days. Just wanted to give you all a heads up.
https://www.allhiphop.com/ti
I Present the "Hot Mess" Burger
By Jack in The Box™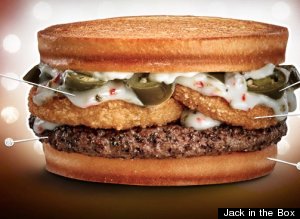 If you're still not sure what kind of decadent and gluttonous food to eat while watching the Super Bowl, Jack In The Box has got your back. The chain is launching a "Hot Mess" burger on January 31, complete with a game day ad roll-out. Although the burger's name conjures memories of Christian Sirano, the Hot Mess burger is more about culinary decadence rather than fashion disaster. The burger features a jumbo beef patty topped with jalapeños, onion rings and pepper jack cheese, served on sourdough bread.
Comments