What's up everyone. We are doing a contest with T.I. and we are giving away $1200 a day for the next 10 days. Just wanted to give you all a heads up.
https://www.allhiphop.com/ti
"Futurama" cancelled by Comedy Central.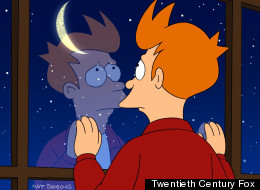 "Futurama" has been cancelled ... again
Comedy Central announced the upcoming second half of Season 7 will be the last. New episodes begin Wednesday, June 19 at 10 p.m. ET and the final of the 13 episode, which will now be the series finale, will air on September 4.
"Futurama" executive producer David X. Cohen said he wasn't shocked by the news. "I felt like we were already in the bonus round on these last couple of seasons, so I can't say I was devastated by the news," Cohen told EW. "It was what I had expected two years earlier. At this point I keep a suitcase by my office door so I can be cancelled at a moment's notice."
"Futurama" originally aired on Fox from 1999-2003. After it was then canceled, reruns of "Futurama" aired on Cartoon Network's Adult Swim. In 2007, the show was revived as four direct-to-video movies. Comedy Central picked up the rights to the movies and then ordered two new seasons of episodes.
"Having the opportunity to bring 'Futurama' back for 52 episodes over these last four years has been a thrill for all of us at Comedy Central. The upcoming season promises to be the best final season of 'Futurama' yet," Dave Bernath, EVP Program Strategy & Multi Programming at Comedy Central, said in a statement.
"Futurama" could live on again, but not right away. Executive producer Matt Groening said they're exploring some continuation prospects, but there are no serious talks yet. "We're catching our breath and seeing what the fans have to say," he told EW. "The experience of this show has been so much fun from the very beginning to now -- everybody is so happy to work on this show -- that it'd be a shame if we all went our separate ways ... We would love to continue. We have many more stories to tell. But if we don't, this is a really great way to go out ... I think these episodes are the best ones we've ever done."
Guest stars for the upcoming final season include Larry Bird, Dan Castellaneta, Sarah Silverman, George Takei, Adam West and Burt Ward.
Click over to EW for more about the "Futurama" cancellation.
The second half of "Futurama" Season 7 begin Wednesday, June 19 at 10 p.m. ET on Comedy Central.
Comments