What's up everyone. We are doing a contest with T.I. and we are giving away $1200 a day for the next 10 days. Just wanted to give you all a heads up.
https://www.allhiphop.com/ti
'Kelly Rowland jealous of Beyoncé? Don't cry, Kelly – you're in it for the long run' - article

Kelly Rowland jealous of Beyoncé? Don't cry, Kelly – you're in it for the long run
Kelly Rowland is not the first performer to live in the shadow of a more successful friend or sibling. But as I found when my band met the Kaiser Chiefs, feelings of envy can be a strong motivator
Posted by
Kele Okereke
Thursday 6 June 2013 17.32 BST
guardian.co.uk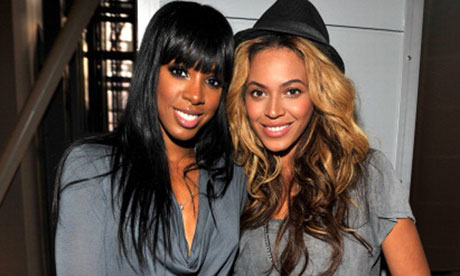 Former Destiny's Child bandmates Kelly Rowland and Beyoncé: there have long been rumours about tensions between them. Photograph: Kevin Mazur/WireImage
Unless you've been living under a rock for the past year you will have spotted the unmistakably coy face of Mrs Beyoncé Giselle Knowles-Carter peering at from you from every advertising site in the country. The transition from girl-band member to bona fide pop icon has been seamless. With more than 100 million album sales and a crowning Super Bowl performance, interest in the star has never been higher. But spare a thought for her Destiny's Child bandmate Kelly Rowland.
Last week during a live performance in Washington, Rowland broke down while singing her new single 🤬 Laundry. In it she talks candidly about growing up in Beyoncé's shadow.
"When my sister was on stage/ Killing it like a 🤬 / I was in rage/ Feeling it like a 🤬 ," she sings. "Bird in a cafe/ You'd never know what I was dealing with/ Went our separate ways but I was happy she was killin' it/ Bittersweet, she was up, I was down/ No lie, I feel good for her but what do I do now?"
It's hard not to feel sorry for Kelly. She's an accomplished artist, singer and TV personality in her own right. She has released four solo albums and has amassed more than 24m record sales but compared with Beyoncé's career trajectory you can see why Kelly might be more than a little upset.
There have long been rumours about tensions between Knowles and Rowland dating as far back as the Destiny's Child days, when Rowland was managed by Knowles's father, the formidable Matthew Knowles. Back then, accusations were made that Beyoncé was always prioritised in band decisions. So in 2009, after the Destiny's Child split, Rowland ended her professional relationship with Matthew Knowles and the rumour mill went into overdrive. Kelly has gone on record to refute claims of animosity between her and Beyoncé, claiming that Beyoncé is like a sister to her and that will never change. But after the video footage of Rowland went, viral people were left wondering if she's telling the truth.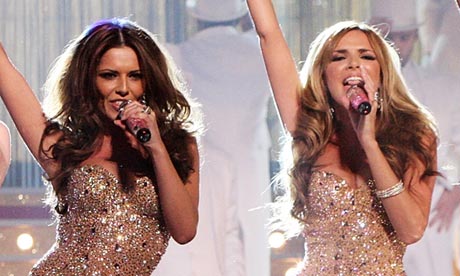 Cheryl (left) and Nadine Coyle in Girls Aloud: Nadine was the stronger singer. Photograph: Dave Hogan/Getty Images
Rivalry in the pop world is not new, it's the basis of the industry. But in this clip there is something so defeated in Kelly's body language as she breaks down for all the world to see. This sort of emotional candour is kind of new for the pop world, though; usually these sort of scenes play out backstage. But there are some examples where rivalries between band members and family have erupted in public.
Look at the brave face put on by Nadine Coyle during Cheryl Cole's emergence as Britain's sweetheart. As anyone who has ever seen Girls Aloud in concert will attest, Nadine always fancied herself as the lead singer of the group, with her generous syrupy vocal embellishments. She knew she was the strongest singer in the group and on paper the crown was hers to snatch. She moved to LA first, got a celebrity boyfriend first and even got dangerously skinny first. Had it not been for Cheryl's timely placement on The X Factor, it would have been her year. But it was not to be, the nation fell in love with the doe-eyed girl from Newcastle and Nadine was left to put on a brave face. She released her own solo album Insatiable in a bizarre distribution deal with Tesco to a world of indifference. Now, in a post-Girls Aloud split, the gloves are off with the other band members attacking Nadine for saying the split was not her decision. Not to be dissuaded, Nadine is now rumoured to be putting her own girl group together to fill the the "void" that the passing of Girl's Aloud has created .
Comments