What's up everyone. We are doing a contest with T.I. and we are giving away $1200 a day for the next 10 days. Just wanted to give you all a heads up.
https://www.allhiphop.com/ti
Tinashe-Black Water
So funny story.....
I was on Boxden and came across someones lovely avatar of this young lady:
Naturally I was intrigued as any straight red blooded american male should've been and I reversed google image searched the image....which actually led to no results...until i noticed there was a name and title on the photo...google searched it....success....
So turns out its the cover of a mixtape, titled "Black Water". The third mixtape in fact, by a young lady named Tinashe Kachingwe (just Tinashe as her stage name)...Born RIGHT HERE in good ol' Kentucky, raised up in the entertainment industry out in LA.
Funny story part 2:
My first exposure to Tinashe was in fact, through Cartoon Network's dark, twisted attempts at live action entertainment circa 2008. She was a main cast member on a terrible show called "Out of Jimmy's Head"....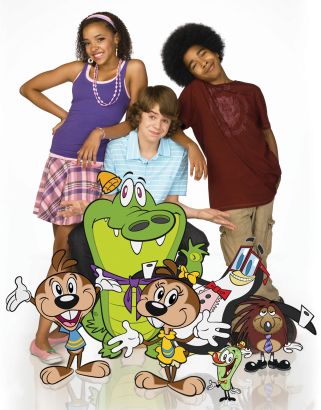 (It was as bad as it looked)
For some reason I found myself, a bored college student catching an episode and thought to myself.."man that black chick is gonna be a looker when she gets older".
I have never been more correct:
So lets talk about the music. Out of pure curiosity, i download "Black Water" from DatPiff.
Its awesome. Firstly, Tinashe can actually sing and has a wide range and is a very skillful song crafter. I hate to compare her to anyone, but there are definately some Aaliyah influences within this tape. Songs like "Midnight Sun" and "Ain't Ready" echo Baby Girls gentle, melodic, vocals with the heavy 808s and atmospheric production.
TInashe does sensual damn well. The outro of "Midnight Sun" (with a very Drake/40 like beat switch), "Secret Weapon", and "Vulnerable"( the tape's only feature, with goes down as my first exposure to Travi$ Scott) bled sexual energy.
My favorite track personally is "1 For Me"...loving the rolling snares, and Tinashe rides the beat comfortably. A close second is "Stunt" which imo she should release as a single ASAP. It sounds like something once again, that Drake would release (not a bad thing BTW), it full of tude, bass-heavy, and catchy.
Least fav would maybe be the very 80s sounding synth heavy "Fugitive".....
But don't get it twisted: this tape has no bad songs. Its very short, clocking in at only 33 minutes and that may turn some off. But its a very strong showing, and for someone all of 20 years old, its hopefully a promise of things to come.
Comments