What's up everyone. We are doing a contest with T.I. and we are giving away $1200 a day for the next 10 days. Just wanted to give you all a heads up.
https://www.allhiphop.com/ti
Just Picked Up a Bargin HP Tablet + Chromecast Wireless Streaming Device for under 150$
edited February 2014
in IllTek
Just picked up the HP 7' Mesquite (1800) Tablet for 99$, It is a great deal for the price. It comes in 1 color, which is white and is a Walmart online exclusive. BTW ordered it online and it was available for pick up the next morning, apparently they have some of these web exclusive on hand.
I have lots of electronic devices so I didn't feel it was necessary to get a high end Tablet when I already have several devices with similar functionality. But I did want something I could use while
taking a 🤬 LOL
, at the doctor's office, in bed etc... or if I didn't feel like firing up the laptop to check out some Youtube videos. This does the job.
Along with Google's Chromecast wireless streaming device (35$) which allows you to stream popular apps onto your TV from your Tablet or PC as well as local files i.e "legally" downloaded movies. It is the size of a USB drive and very easy to use, it connects to an HDMI port then communicates with your Wifi and the devices you connect to it the device.
HP 7'
http://www.walmart.com/ip/HP-7-Tablet-8GB-Memory-Intel-Atom/27618120
P
ro's & Cons so far

Pros: Price & Expandable Memory*.

Cons: Small Internal Memory 8 GB*, Screen Quality ( My girl just bought a Nexus 7 which is the king pen of budget tablets and the screen quality on the Nexus is noticeably sharper and clearer.) & only has a forward facing camera.

*These cancel each other out but needed to mention them.

HP 7 with WiFi 7" Touchscreen Tablet PC Featuring Android 4.1 (Jelly Bean) Operating System, White:
Technical Specifications:
1.6GHz Intel Atom Z2460 processor
1GB DDR2 of system memory
7" touchscreen, 1024 x 600 resolution, virtual keyboard
Built-in 802.11b/g/n WiFi and Bluetooth 2.1 EDR
Additional Features of the HP Tablet:
Front VGA webcam with omni-directional microphone
microUSB port
8GB on-board storage memory, additional memory via microSD card slot
Built-in speaker
Accelerometer
Up to five hours of run time on a full charge
Weighs 0.83-pounds; 7.6" x 4.92" x 0.4" dimensions
Software and Applications:
Android 4.1 OS (Jelly Bean)
Google Search, Google Voice Search, Gmail, Google Sync, Google Talk, Chrome browser, Google+, Google Maps, Google Street View, YouTube, Widevine digital content manager and Google Play (for applications)
Media Formats: popular media formats
What's in the Box:
7-inch tablet and AC adapter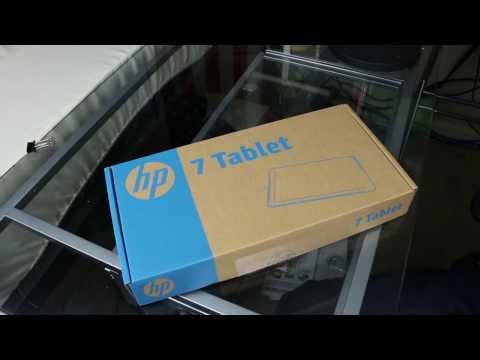 Google Chromecast

Pros & Cons so far

Pros: Wireless Streaming & Ease Of Use.

Cons: App support limited to Netflix, YouTube, and Google Play & No central playback controls.