What's up everyone. We are doing a contest with T.I. and we are giving away $1200 a day for the next 10 days. Just wanted to give you all a heads up.
https://www.allhiphop.com/ti
T.I's Urban Legend A Decade Later
Urban Legend is the third studio album by American rapper T.I., released on November 30, 2004, through Grand Hustle Records and Atlantic Records. The album debuted at number seven on the Billboard 200, selling 193,000 copies in its first week of release, it charted at number one on the Top R&B/Hip-Hop Albums chart, and at number one on the Top Rap Albums chart.
The album's official lead single, "Bring Em Out", was released on October 19, 2004 and became his first top ten hit, peaking at number nine on the US Billboard Hot 100, while the second single "U Don't Know Me" peaked at number twenty-three on the Billboard Hot 100. His third single "ASAP" reached number 75 on the U.S. charts, number 18 on the Hot R&B/Hip-Hop Songs charts and number 14 on the Hot Rap Tracks. T.I. created a video for "ASAP"/"Motivation". However, "Motivation" only made it to number 62 on the Hot R&B/Hip-Hop Songs chart.
The album features production provided by long time collaborating Producers DJ Toomp, Jazze Pha, Lil Jon, The Neptunes, Nick "Fury" Loftin, David Banner and Sanchez Holmes. New Producers contributing to the album include Daz Dillinger, Kevin "Khao" Cates, KLC, Mannie Fresh, Scott Storch and Swizz Beatz. Featured guests on the album include Trick Daddy, Nelly, Lil Jon, B.G., Mannie Fresh, Daz Dillinger, Lil Wayne, Pharrell Williams, P$C, Jazze Pha and Lil' Kim.
Upon its release, Urban Legend received generally favorable reviews from most music critics, where most music critics saw it as another major improvement.
The Recording Industry Association of America has certified the album platinum, with over 1,000,000 copies shipped in the United States alone.
1. "Tha King" Nick "Fury" Loftin 3:24
2. "Motivation" DJ Toomp 3:34
3. "U Don't Know Me" DJ Toomp 4:03
4. "ASAP" Sanchez Holmes 4:44
5. "Prayin for Help" Sanchez Holmes 4:22
6. "Why U Mad at Me" Kevin "Khao" Cates 3:53
7. "Get Loose" (featuring Nelly) Jazze Pha 4:12
8. "What They Do" (featuring B.G.) KLC 3:48
9. "The Greatest" (featuring Mannie Fresh) Mannie Fresh 4:22
10. "Get Ya Sh*t Together" (featuring Lil' Kim) Scott Storch 4:05
11. "Freak Though" (featuring Pharrell) The Neptunes 3:43
12. "Countdown" David Banner 4:55
13. "Bring Em Out" Swizz Beatz 3:36
14. "Limelight" (featuring P$C) Khao 5:03
15. "Chillin with My B*tch" (featuring Jazze Pha) Scott Storch 3:56
16. "Stand Up" (featuring Lil Jon, Trick Daddy & Lil Wayne) Lil Jon 4:42
17. "My Life" (featuring Daz Dillinger) Daz Dillinger 5:13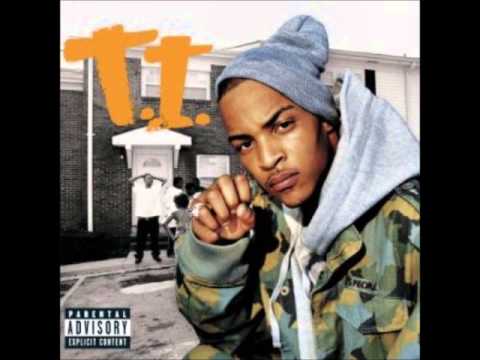 His best album imo
Comments