What's up everyone. We are doing a contest with T.I. and we are giving away $1200 a day for the next 10 days. Just wanted to give you all a heads up.
https://www.allhiphop.com/ti
A Guide to the Best Men's Style, Grooming, And Etiquette Information on the Web
Maximus Rex
Pulchritudo in Conspectu Regis
The Empreyan
Members
Posts: 6,355
✭✭✭✭✭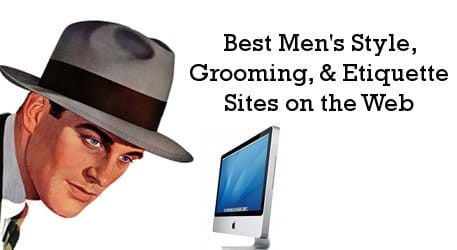 https://www.youtube.com/watch?v=QWXKpbSfuIE

http://www.artofmanliness.com/2009/03/31/best-mens-style-websites/
As a man whose business is menswear and style, I spend a lot of time researching blogs and forums on the web; this article is intended to bring you the best of what I have found. FYI, I've intentionally left out some of the larger bloggers, as that I wanted to highlight lesser known writers that are just as passionate and still answer individual inquiries and comments. In my opinion, interaction is key to a strong blog or forum; it leads to a deeper understanding and better questions. So without further ado here are some sites that offer the best in men's style, grooming and etiquette information.
Six Hidden Gems (This article is from 2012 and it may be a bit dated. Though the article talks about "Six Hidden Gems," I left three off. The Short Shrifted site is down. On London Lounge you have to register before you can get on the site, and men.style.com takes you to http://www.gq.com/?us_site=y)
The following are blogs that have yet to receive their due. Well written and focused on their niche, each covers their chosen topic with passion and skill. Do yourself a favor and give them a few minutes of your time.
The Houndstooth Kid. http://mrlapel.blogspot.com/
Will, The Houndstooth Kid, states: "The purpose of this blog is to point out both the common and obscure aspects of 1930s-1950s men's style and how it affects us today. Vintage style has and is still influencing the way we dress and generally live our lives." Think you know older fabrics – try passing his Atomic Fleck quiz!
An Affordable Wardrobe.
http://anaffordablewardrobe.blogspot.com/
The site's author sums it up best: "Searching for a cure to the current epidemic of 'Eternal Teen-Ager Syndrome' which has stricken the vast majority of American males. Enough with the flip flops and short pants. Let's start dressing like grown men." Clothes, Music, Accouterments, all Cheap.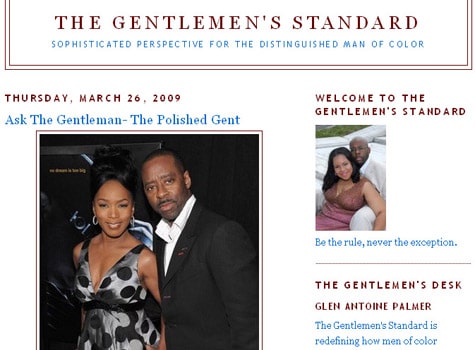 The Gentlemen's Standard. http://gentlemenstandard.com/
Seeks to redefine how men of color approach life and style – I've personally talked at length with the founder, Glen Palmer, and can say with confidence that he is dedicated to his mission. A contributor to the Detroit Fashion Pages, Glen is a dedicated blogger who posts daily (340 posts last year!) and continues to produce quality content. His observations are timeless and his advice is rock solid for any discerning gentleman.
Manner of Man. http://mannerofman.blogspot.com/
Manner of Man's author, Nicola Linza, focuses on timeless fashion, art, architecture, and all things Italian. In his own words "After reading this blog, it is my hope that you will view your clothing, accessories, and the services presented to you in a new light, then seek out the finest for yourself, your lifestyle, and develop your individual character and personal style." A great resource with excellent writing and clear thought.
Social Primer. http://www.socialprimer.com/
K. Cooper Ray has taken a fresh take on the age old art of proper manners. In a world where etiquette has fallen to the wayside, Social Primer is a beacon in the darkness as it discusses how to deal with the loud cell phone talker and the rules of shaking hands & chivalry in the modern age.
Five Forums That Will Change the Way You Dress
Online forums are an amazing tool; you can ask a very pointed question and have it answered by someone on the other side of the globe within minutes. Novices, amateurs, and experts interact in a colorful conversation that continues as long as the thread that spawned it remains active. However, forums do pose risks to those without a foundation in classic men's style. There is quite a bit of bad advice out there; a poster with 40 minutes of tailoring experience is given the same pulpit to preach as a tailor with 40 years under his belt. And do not be swayed by those with a large number of posts; look for quality over quantity. My advice? Build a solid foundation in understanding men's style and take what you read in forums with a grain of salt; look to forums to supplement an education, not to fully sustain one.
Ask Andy About Clothes. http://askandyaboutclothes.com/
The founder, Andy Gilchrist, is a self-taught men's fashion expert. He has published a great encyclopedia of men's clothes and actively manages the discussion with a great group of moderators. You'll find some great threads here and a very friendly feel.
Style Forum. http://www.styleforum.net/
The title says it all. I find this site is especially great at covering casual wear and quality denim. Their off topic threads are also very entertaining.
http://www.styleforum.net/
The Fedora Lounge http://www.thefedoralounge.com/
Less traffic than the above two, it nonetheless is home to a number of great threads and bits of advice…..especially on fedoras (naturally) and other pieces of headwear.
StyleCrave http://stylecrave.com/
Like Men.Style.com, it's a bit more fashion forward, but they always present the latest in styles and trends for men.