What's up everyone. We are doing a contest with T.I. and we are giving away $1200 a day for the next 10 days. Just wanted to give you all a heads up.
https://www.allhiphop.com/ti
CALORIC NIRVANA 75: Would anyone on the IC eat...?

GROUP A:
STRASBURGER
Nationals Park (Washington, DC)
Although a burger is not "insane" per se, when you hear the StrasBurger's vital statistics, your jaw will drop. Named after the Nationals' oft-injured starting pitcher Stephen Strasburg, this ground brisket, chuck, and short-rib behemoth weighs eight solid pounds, has nearly 10,000 calories and 700 grams of fat, and costs $59. That's actually kind of cheap for stadium food, especially considering that you're getting a cone of fries and a pitcher of soda tossed in gratis!
TILLAMOOK MAC 'N' CHEESE DOG
Providence Park (Portland, OR)
Portland's Moda Center (formerly the Rose Garden) hosted first and second-round games this year, but the city's craziest stadium food is actually across the Willamette River at Providence Park, where the MLS's Portland Timbers play. Inspired by the city's thriving food-cart culture, the stadium has a slew of interesting Franken-creations, perhaps none more so than a local Zenner's quarter-pound hot dog smothered in a special "house recipe" Tillamook mac 'n' cheese. That's PALEO , right?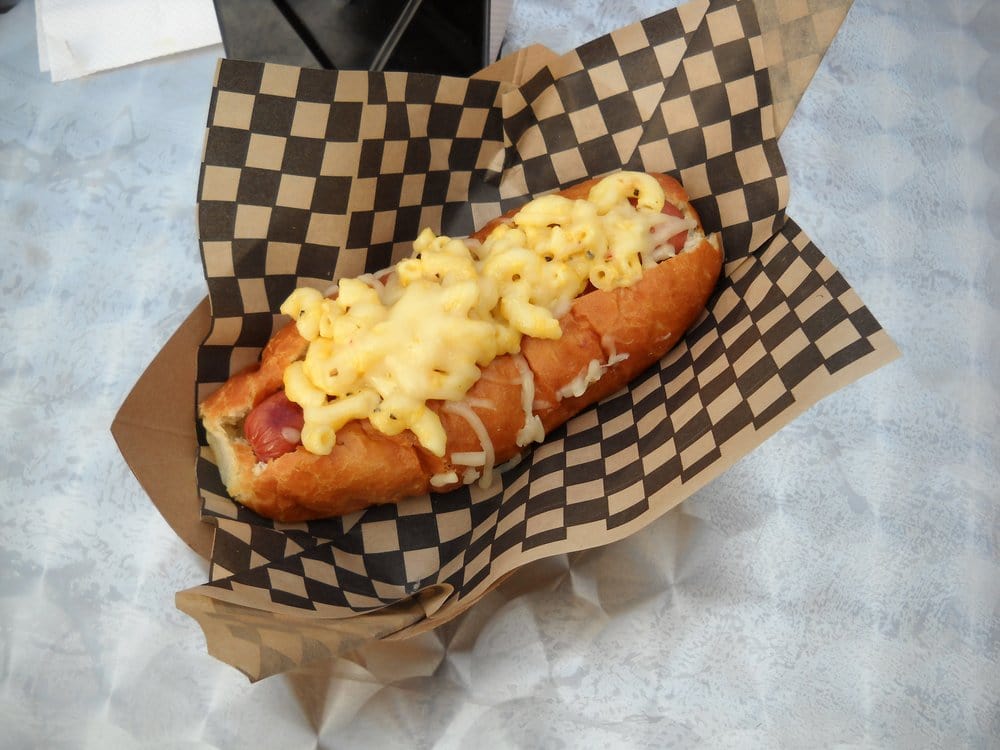 THE KRISPY KREME DONUT DOG
Daniel S. Frawley Stadium (Wilmington, DE)
College basketball is the de facto "minor leagues" for the NBA, where the best young talent is soon to be discovered. The most up-and-coming stadium-food talent, though, surely must be making its mark at America's minor league baseball parks—like the home of the Wilmington Blue Rocks, which is set to unveil this insane monstrosity next season. Like the "Luther" for tubed meat, this sweet-and-savory offering features a split Krispy Kreme donut filled with a hot dog, raspberry jelly, and chunks of bacon.
Churro Dog
The Arizona Diamondbacks will sell its 1,117-calorie Churro Dog during the 2015 season. The dessert puts a churro in a donut bun before being topped with frozen yogurt, caramel and chocolate sauce.
Group B:
Inside The Park Nachos
Delaware North
The nachos aren't really nachos at all, but many have proclaimed it as nachos on a stick. It's a corn dog-like stick stuffed with taco beef and refried beans, rolled in Doritos and then deep fried and drizzled with cheese and sour cream.
D-bat Dog
Arizona Diamondbacks
The Arizona Diamondback have introduced a new 18-inch corn dog stuffed with cheddar cheese, jalapeno and bacon. It's served with chipotle ketchup, spicy mustard and fries and costs $25.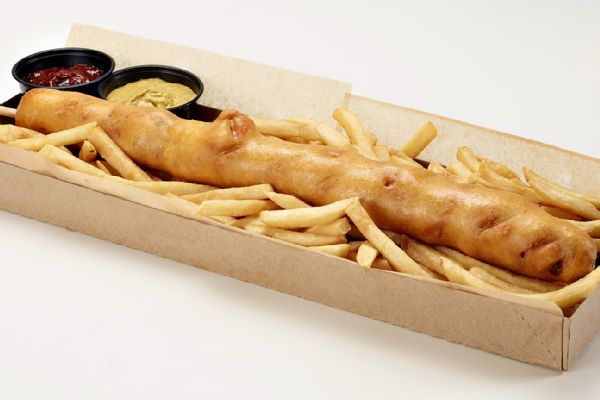 Murph-a-dilla
Named after former MLB star Dale Murphy, the Murph-a-dilla is sold at Texas Rangers games and is a 24-inch-long beef brisket quesadilla. It costs $26 and is cut into pieces to be shared at a game.
ROAST BEEF AND GRAVY FRIES
It's perhaps no surprise that one of this country's most iconic food cities should have multiple unique offerings at its sporting arenas. Just across the street from The Superdome, the NBA's Pelicans play in an arena with some equally insane culinary offerings. The highlight is these crispy waffle fries smothered in brown gravy and topped with roast beef "debris" (their term, not mine).
Group C:
BBQ PULLED JACKFRUIT SANDWICH
Levi's Stadium (Santa Clara, CA)
Nowadays, it's not just meat-tastic and cheese-tastic options when you want to gorge at halftime. Okay, it mostly is—this is America, dammit!—but some of our more urbane stadiums have some equally insane vegan options. For instance Levi's Stadium, the home of the NFL's 49ers, where Chef Ryan Stone's spicy, all-veggie take on your typical pulled pork is a fitting substitute. Who even knew you could "pull" jackfruit? Heck, who even knows what exactly jackfruit is?! Insane!
CHOOMONGOUS
Ballpark in Arlington (Arlington, TX)
Everything is bigger in Texas, so it's no surprise that the Texas Rangers' concessionaires give us a new insanity each year—all inspired by a current player. There's been a Yu Dog, a seaweed covered hot dog made in honor of Japanese pitcher Yu Darvish. There was the popular "Texas-sized" 24-inch Murph-A-Dilla served for a couple of years before utility man Daniel Murphy was shipped to Cleveland. And now there's Choomongous, a—no surprise—humongous two-foot-long Asian-spiced beef sandwich covered in Sriracha slaw to honor South Korean outfielder Shin-Soo Choo.
SLOW-ROASTED HOMESTYLE 🤬 ROAST SANDWICH
Lucas Oil Stadium (Houston, TX)
For our final stop, we'll visit Lucas Oil Stadium, host of this year's Final Four and the championship game. You won't find nachos in helmets, hot dogs wrapped in desserts, or even burgers so big that you need a buddy in a weight belt to spot you. What you will find, though, are a few insanely delicious and unique offerings—none tastier than a gigantic honey kaiser roll filled with a pile of slow-roasted 🤬 roast. The days of getting by at the stadium on just peanuts and 🤬 Jacks are over, friends, and we're all thefatter better for it.
Garbage Plate
THE BOBBIE AT CAPRIOTTIS
CALORIC NIRVANA 75: Would anyone on the IC eat...?
19 votes
Comments