What's up everyone. We are doing a contest with T.I. and we are giving away $1200 a day for the next 10 days. Just wanted to give you all a heads up.
https://www.allhiphop.com/ti
Rand Paul: 'I am Running For President'

1CK1S
Members
Posts: 27,472
✭✭✭✭✭
Louisville, Kentucky (CNN)For Rand Paul, it's all led to this moment.
Since riding the tea party wave into the Senate in 2010, Paul has carefully built a brand of mainstream libertarianism -- dogged advocacy of civil liberties combined with an anti-interventionist foreign policy and general support for family values -- that he bets will create a coalition of younger voters and traditional Republicans to usher him into the White House.
The test of that theory begins Tuesday when the Kentucky senator is expected to make official what has been clear for years: He's running for president.
"I am running for president to return our country to the principles of liberty and limited government," Paul said on his new website.
A formal announcement will come at a rally in Louisville and he'll immediately hit the campaign trail, swinging through New Hampshire, South Carolina, Iowa and Nevada -- the states that traditionally vote first in the primaries and caucuses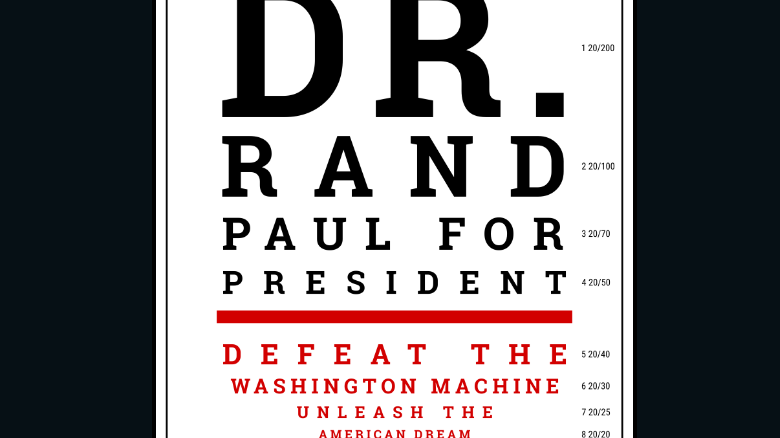 His wife, Kelley, and former Rep. J.C. Watts of Oklahoma will be among the speakers introducing Paul at the rally Tuesday.
So far, Paul joins only Texas Sen. Ted Cruz as a declared candidate for the GOP presidential nomination. But the field is certain to grow in the months ahead with Jeb Bush, Chris Christie, Scott Walker, Lindsey Graham and others eyeing a campaign. Marco Rubio, a Florida GOP senator, is expected to launch his campaign next week.
For now, the nomination is up for grabs with no clear front-runner. Paul came in third place at 12% in a CNN/ORC International Poll of Republicans. Bush led the pack at 16% while Walker came in second at 13%.
Ron vs. Rand Paul
Paul, the son of former Texas congressman and three-time presidential hopeful Ron Paul, will build on his father's legacy as a candidate eager to bring civil liberties to the forefront of the national dialogue. He's already used his perch on Capitol Hill to draw attention to those issues, including a 13-hour filibuster two years ago blasting the Obama administration's drone policies and a lawsuit against the National Security Agency's phone metadata collection effort.
What's the difference between Ron Paul and Rand Paul?
What's the difference between Ron Paul and Rand Paul? 01:46
PLAY VIDEO
But Paul, 52, will split from his father in one important way: his approach to the campaign. Where Ron Paul often focused on creating a libertarian movement, Rand Paul is planning a more strategic, less purist operation that could have a hope of competing in a general election.
The elder Paul will be at the rally on Tuesday, though he's not expected to be a public face for his son's campaign. He'll attend the event as a "proud papa," a source close to the senator said.
Elected in 2010 with strong tea-party support, Rand Paul quickly rose to national fame in part due to his father's back-to-back White House runs in 2008 and 2012, but also because of Rand Paul's willingness to fight fellow Republicans.
He engaged in a war of words with Chris Christie two years ago over national security and federal spending and, more recently, he's taken swipes at Jeb Bush over issues like Common Core and medical marijuana.
Still, Paul has carefully worked to form inroads with establishment Republicans and other factions of the party's base. He's done so by becoming close political allies with Senate Majority Leader Mitch McConnell and backing mainstream candidates who competed against libertarian opponents during last year's midterms.
He's also tried to make peace with national security Republicans, taking nuanced positions that try to shed an isolationist label while still showing his apprehension toward foreign intervention. Last year, for example, he supported limited airstrikes against ISIS but vigorously fought against arming Syrian rebels.
While he bills himself as a conservative realist, Paul still tries to wear the mantle as the Republican most reluctant to take the country into war.
War's 'unintended consequence'
"I can tell you there will be one loud voice in our party saying, think of the unintended consequence," Paul said in Iowa two months ago. "Think about what we're going to accomplish and whether it will work before we go to war.' I promise you that will always be something I take very, very seriously."
The cautious foreign policy dance has drawn criticism from his father's supporters, who say Paul has become too moderate, and from hawkish Republicans who fear he wouldn't go far enough as commander in chief to tackle problems overseas. Democrats and some Republicans, meanwhile, have accused him of flip-flopping and pandering to donors.
Comments