What's up everyone. We are doing a contest with T.I. and we are giving away $1200 a day for the next 10 days. Just wanted to give you all a heads up.
https://www.allhiphop.com/ti
Jon Favreau's 'Jungle Book' Trailer Gets Standing Ovation At Disney's D23

1CK1S
Members
Posts: 27,472
✭✭✭✭✭
The director was joined onstage by stars Lupita Nyong'o, Ben Kingsley and newcomer Neel Sethi
Director Jon Favreau unveiled the first trailer for Disney's "The Jungle Book" and brought stars Lupita Nyong'o, Ben Kingsley and newcomer Neel Sethi onstage at Saturday's D23 Fan Expo in Anaheim.
Sethi plays the film's young hero Mowgli, while Kingsley plays Bagheera the Panther and Nyong'o plays Raksha the Wolf. Favreau played up the eye-popping visual spectacle of the film, saying that "The best CGI is the CGI that disappears."
Favreau revealed the film's first poster and said they'd be giving out copies to fans after the presentation. After Favreau joked he didn't have any footage ready, Sean Bailey asked him to look within his heart for a glimpse and Favreau obliged.
Also read: Live-Action 'Mulan' Movie Further Proof of Disney's Commitment to Diversity
The trailer opens with the smoky voice of Scarlett Johansson's Kaa the Python talking about the Red Flower, which brings "warmth, light and destruction."
Bagheera finds Mowgli and we're told that "the jungle is no longer safe. I'll return him to where he belongs."
We see Idris Elba's k!ller tiger Shere Khan stalking Mowgli through the outback in a thrilling sequence that ends with him jumping off a cliff, after which he's discovered by Bill Murray's Baloo the Bear. Baloo tells Mowgli to "relax" and that "there's no need to get worked up." Then he sings the classic Disney song "Bare Necessities," a song about "the good life," though Mowgli confesses he doesn't know what a song is.
"Everyone's got a song," Baloo a.ssures him.
As the trailer nears its end, we see Shere Khan warning Mowgli that "if you come back, I'll be waiting," then the footage concludes with Christopher Walken's orangutan King Louie saying "I am the king!" — which brought the house down.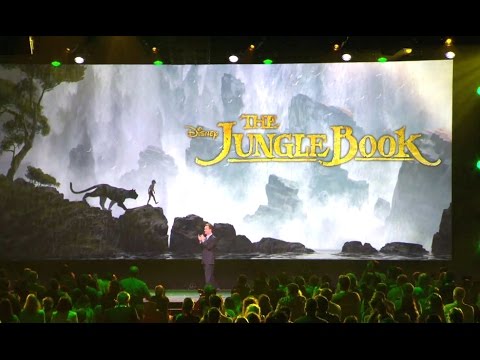 Comments