What's up everyone. We are doing a contest with T.I. and we are giving away $1200 a day for the next 10 days. Just wanted to give you all a heads up.
https://www.allhiphop.com/ti
News Anchor Calls Out Viewer for Calling Her The N-Word

RickyRich
RUCKWORLD
Members
Posts: 13,061
✭✭✭✭✭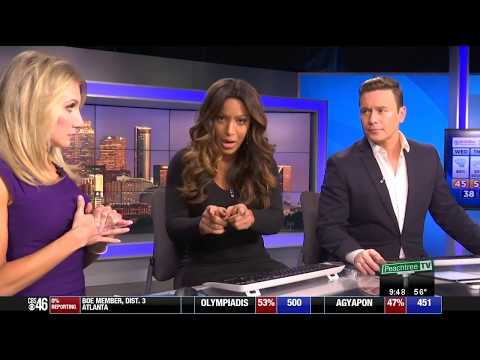 A nightly news program in Atlanta closed out coverage of the city's mayoral vote on Tuesday night, December 5, by addressing questions as to whether race wound up becoming an issue in the election. And with the support of her colleagues, one anchor was given the floor to reveal how a letter from a hateful viewer exemplifies how she has personally been forced to deal with racism throughout the hotly contested race.
Shortly after the inquiry was brought up for discussion, Emmy nominated newswoman Sharon Reed turned to a camera off to the side of the CBS 46 studio and called for an email she has been holding onto to be brought to the screen for viewers. "You what's wrong with the world. You need to be fired for the race baiting comment you made tonight. It's OK for blacks to discuss certain subjects but not whites, really? You are what I call a N****r not a black person," the message, from a woman who identified herself as Kathy Rae, read.
Emotions around Atlanta were on high for many, as Democratic candidate Keisha Lance Bottoms was well on her way to carrying forth the streak of African-Americans who've filled the office since 1973. Reed started off her on-air response by objecting to the notion that the statements Rae took exception to and characterized as "race baiting" were at all intended to shut white people down. "Quite the contrary, we think that race is an authentic discussion to have. It's one we're having tonight because it's one that you are talking about at home and it's one that has clearly entered the Atlanta mayor's race," she said.
After clearing her name, Reed then narrowed the focus of her reply onto Rae, specifically - although, she was sure to point out that Rae's message did all of the talking for her, as it concerned the topic of racial tensions surrounding the divisive political atmosphere.
"When arguing with somebody you have to be careful not to mischaracterize their viewpoint, so I won't mischaracterize your view either, Kathy Rae. I get it. On 5 December 2017, you think it's OK to call this journalist a 'n****r'. I don't," said Reed. "I could clap back and say a few things to you. But instead I'll let your words, Kathy Rae, speak for themselves. And that will be the last word."
Comments