What's up everyone. We are doing a contest with T.I. and we are giving away $1200 a day for the next 10 days. Just wanted to give you all a heads up.
https://www.allhiphop.com/ti
Video: 2 Pasadena pigs brutality beat on a black man to point they break his leg…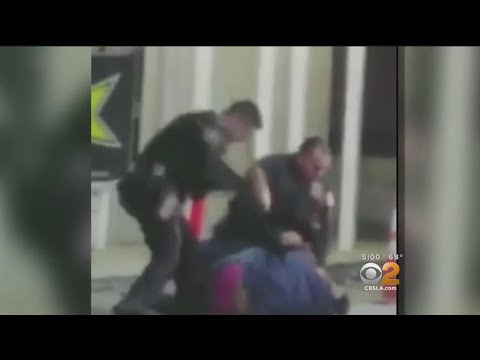 https://www.cbsnews.com/news/new-video-of-controversial-arrest-released-pasadena-california/
New video of controversial arrest released

PASADENA, Calif. -- Body cam and bystander footage of a chaotic arrest in Pasadena has riled civil rights groups like the NAACP, who called the officers' actions "reprehensible" and "inhumane," CBS Los Angeles reports.

Six body cam and patrol car videos released Friday by the City of Pasadena show two unnamed police officers attempting to subdue Christopher Ballew at an Altadena gas station in November. According to police, they stopped Ballew after they witnessed the 21-year-old commit "multiple traffic violations," Pasadena Now reported.

The incident took a violent turn, police say, when Ballew allegedly refused to comply and attempted to grab a baton from one of the officers.

Additional video recorded by a bystander shows one officer hitting Ballew in the right leg repeatedly while he was face-down on the ground. The other officer can be seen punching Ballew several times before slamming his head into the pavement.

Ballew was ultimately taken to the hospital and arrested on $50,000 bail for "assault on a peace officer as well as several unspecified misdemeanors," the paper reported.

Ballew told Pasadena Now he suffered a broken leg as a result of the incident.

Pasadena officials say the officers' actions were within department policy, though the incident is still under review.

City of Pasadena Spokesman William Boyer told CBS Los Angeles Ballew was initially stopped because the car he was driving was missing a front license plate and its windows were illegally tinted.

"Currently, the whole incident is under review, so there is no timeline for how long that will take. There is no conclusion right now," Boyer said.

Pasadena City Manager Steve Mermell said "while the City is not obligated or required to release such the recordings, […] I believe doing so is in the best interest of the City and that of the public," the paper reported.

The L.A. district attorney's office said last week it would not prosecute Ballew on any charges stemming from the altercation.

Ballew's family said he was not speaking to reporters when CBS Los Angeles reached out for comment Friday.
Comments