What's up everyone. We are doing a contest with T.I. and we are giving away $1200 a day for the next 10 days. Just wanted to give you all a heads up.
https://www.allhiphop.com/ti
Amanda Bynes Attacks Rihanna On Twitter
huffingtonpost.com/2013/05/26/amanda-bynes-rihanna_n_3340005.html?utm_hp_ref=mostpopular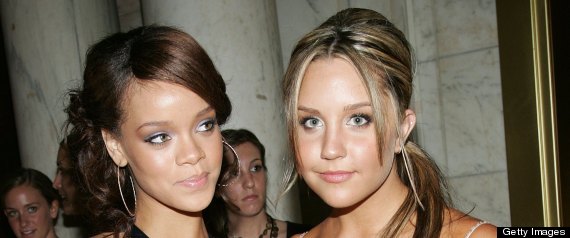 Amanda Bynes went on a vicious, unexplainable Twitter tirade against Rihanna on Sunday.
According to TMZ, Bynes posted a series of angry tweets about Rihanna's looks before promptly deleting them.
"Chris Brown beat you because you're not pretty enough," she tweeted. "No one wants to be your lover so you call everyone and their mother."
Rihanna shot back, "Ya see what happens when they cancel Intervention?"
Bynes responded again, "unlike your fugly faced self I don't do drugs! U need the intervention dog! I met your ugly face in person. U aren't pretty u know know!"
She deleted that tweet soon after too.
While it's unclear why Bynes lashed out against the singer, we can't say we agree with the assessment. Rihanna has been posting tons of Instagram pics-- like this one of her dressed up as Marilyn Monroe-- and we have to say, girl looks FIERCE.
See part of the exchange below:

Comments