What's up everyone. We are doing a contest with T.I. and we are giving away $1200 a day for the next 10 days. Just wanted to give you all a heads up.
https://www.allhiphop.com/ti
Mr. Nice Guy: Kanye West Gets Chummy With French Paparazzi & Woman Who Has No Idea Who He Is
A trip to Paris has apparently done wonders regarding Kanye West's icy relationship with the paparazzi.
As West exited his vehicle Sunday he actually had a nice conversation with a paparrazo. Yeezy asked the photographer not to speak to him and then began to talk about how the French paparazzi is respectful as compared to their American counterparts.
"I like how you guys move out here. You have total respect for yourselves," West said. "You have respect for yourselves and respect the people you're photographing. You also take time off. At 8 o'clock you're not around people's houses and stuff like that. I just really appreciate it."
He then shook the pap's hand.
A woman happened to be walking by and wondered what all the fuss was about. She asked the photographer who West was.
The rapper then introduced himself to her.
"I'm Kanye," West told her, as he introduced himself and shook her hand.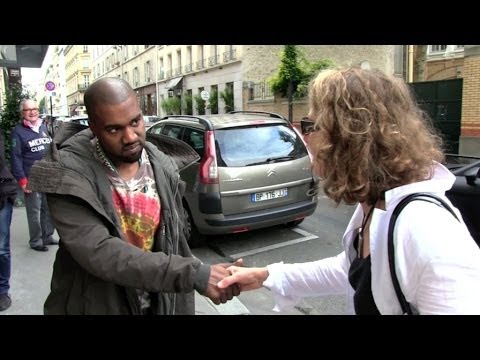 Comments