What's up everyone. We are doing a contest with T.I. and we are giving away $1200 a day for the next 10 days. Just wanted to give you all a heads up.
https://www.allhiphop.com/ti
racist parents forbid "black" nurse from treating child, child dies..
Ajackson17
On the shoulders of Giants and Elders in history
Universe
Members
Posts: 22,501
✭✭✭✭✭
When your hatred for POC outweighs your love for your child.
Just had an infant die that I could've saved,but parents said no n word nurses(
@FierceFemtiv
ist)
This is the second time in my career this has happened. Babies whose lives I could've saved, dead bc parents refused n word Nurses(
@FierceFemtiv
ist)
To be forced to watch a child die...that you KNOW you could've saved....is soul crushing.(
@FierceFem
tivist)
absolutely sickening.
her tweets are now protected.
so basically, this woman is a PEDS and Trauma nurse. a white couple came in with a dying child but the father (dressed in confederate flag shirt) vehemently refused this woman. he even said he's bash her head in if she touched his kid or even walked into the room. staff tried to reason with him that she was the only qualified person at the moment that could save the child but they refused and the kid died.
http://www.lipstickalley.com/showthread.php/949784-racist-parents-forbid-quot-black-quot-nurse-from-treating-child-child-dies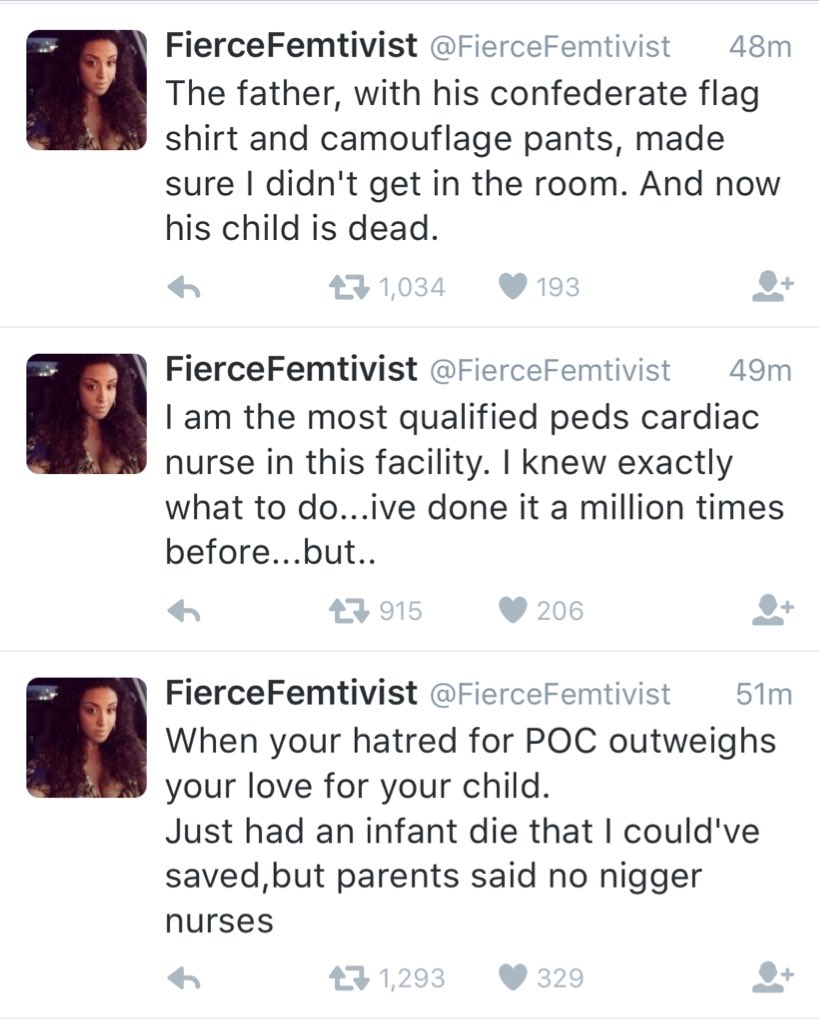 Comments