What's up everyone. We are doing a contest with T.I. and we are giving away $1200 a day for the next 10 days. Just wanted to give you all a heads up.
https://www.allhiphop.com/ti
NYPD Arrest Mailman For Making Deliveries

1CK1S
Members
Posts: 27,472
✭✭✭✭✭
Brooklyn Borough President Eric Adams wants the NYPD to investigate the arrest of a postal worker caught on video in Crown Heights last week, an incident he said "could have been another Eric Garner situation."
Adams, himself a former NYPD captain, stood with the 27-year-old worker, Glenn Grays, and his mother at borough hall on Tuesday to release a video of the March 17 arrest.
In it, Adams said Grays is seen in his United States Postal Service uniform, with a package in hand, being cuffed and lead away by at least four plainclothes officers from the 71st Precinct.
Adams said the officers made the arrest shortly after Grays told them off for nearly hitting him with their unmarked police car, which passed him as he was trying to cross President Street near Franklin Avenue on his mail route last Thursday.
"It is not a crime for someone to voice outrage after almost being struck by a vehicle," Adams said, adding that "members of the New York City Police Department" should be aware that their actions are likely to end up on video nowadays.
"There is someone … called Steve Jobs. He invented this thing called iPhone. Millions of people purchased them. And they take pictures of cops that do things that are wrong," he said.
Grays was issued a summons for disorderly conduct after the incident, Adams said, and declined to speak about the incident because of the pending case. But Grays mother, Sonya Sapp, a Fort Greene resident and mother of six, spoke for him.
"As soon as I saw the video, I immediately started crying because I worry about all my boys, every day, every minute, every second of every day," she said.
"I raised him to be humble," she said of Grays, holding back tears. "And if the cop could have just humbled himself and just let it go, it would have been a lot easier."
"I'm just so sorry it happened," she added.
Rachel Holliday Smith · DNAinfo Reporter
What do you think of the video of Glenn Grays' arrest?
Adams is calling on the police department to relieve the four officers in the video of plainclothes duty immediately and for the NYPD's Internal Affairs Bureau to investigate the incident. The police department did not answer questions about the status of the officers involved, saying only in a written statement that "the matter is under internal review."
On Tuesday, Adams praised Grays, who he said has never been arrested before, for keeping his cool during the "traumatizing" incident.
"This could have been another Eric Garner situation if Glenn would not have responded as calmly as he did," he said. "Haven't we learned from Staten Island?"
He stressed that the video does not reflect the "thousands" of officers who do their job correctly, nor the mayor or police commissioner, who he praised for making "great strides" in police training. But, still, he described the actions in the video as "a relic of the past."
"When you see the video that shows nothing went wrong, it's hard to not believe that the only reason Glenn was handcuffed was because of the color of his skin," he said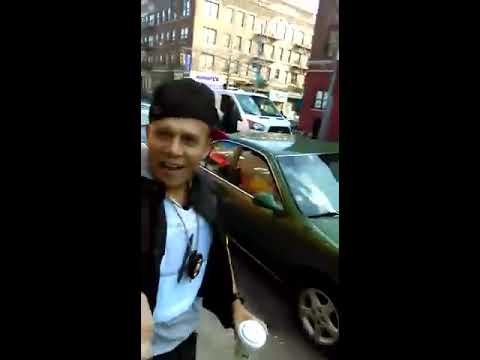 Comments